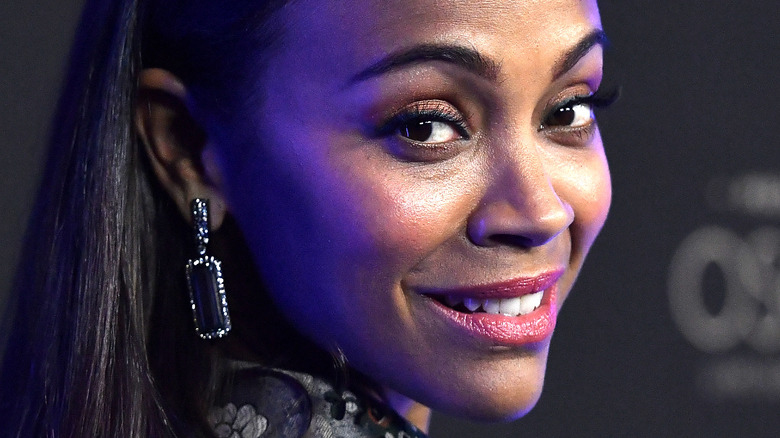 From a diva ballerina in "Center Stage" to a kick-butt alien in "Guardians of the Galaxy," actor Zoe Saldana continually wows fans with her range. That being said, beyond the silver screen, this A-list beauty has a flare for mystery, keeping her private life, well, private until she's ready to open up. "I love what I do so much, but I love my [personal] life more," she said in a 2013 interview with Ocean Drive Magazine (via US Weekly). "I realized through the years of being in this business that the only way to maintain some kind of sanity is to protect that which is most dear to you, which is your life and everyone that's in it."
This sense of discretion makes her one of the most surprising celebrities out there. For instance, did you know she has more than ten tattoos hidden on her tiny frame? Or that one of her most famous co-stars accidentally revealed Saldana's first pregnancy during an interview? We love that she keeps us on her toes almost as much as we love her in "Avatar."
Buckle up for some fun facts about Hollywood's reigning ruler of sci-fi.
Zoe Saldana's not a regular geek— she's a cool geek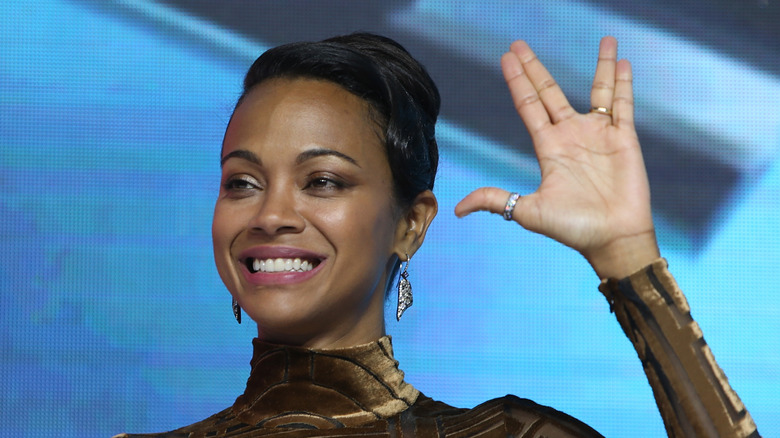 It's no coincidence that Zoe Saldana's starred in some of the most famous sci-fi franchises, from "Avatar" to "Star Trek." A self-professed geek, she grew up in a science-fiction loving home, and her favorite movies as a kid included "Dune," "Alien," and "*Batteries Not Included."
"I loved stories that helped me escape, and those happened to be the stories that fall into the category of geekiness," she told People in 2009. But rather than deny her speculative side, Saldana's fully leaned into geekdom, telling the outlet, "I am a proud geek!"
If playing ground-breaking female roles in geek-culture movies makes one a geek, then she couldn't be more right. Saldana's strong, highly-skilled characters continually push the envelope in sci-fi, which hasn't always been inclusive to women and people of color in Hollywood. "I love the fact that in science fiction movies the women get to be much stronger and tougher instead of being dependent on men," Saldana told Conrad Magazine. "As a woman, I feel it is important to play active and involved women. These kinds of characters help educate younger generations of women to be leaders and aspire to great things."
Can we go ahead and name her the queen of Comic-Con already?
Being a geek pays off in a major way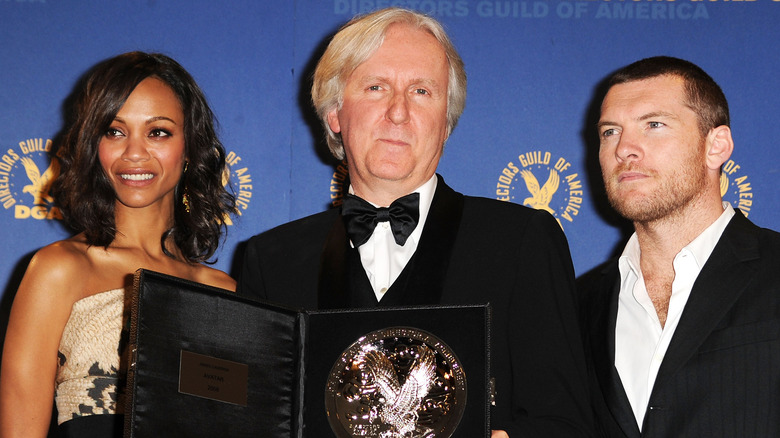 Though she got her start playing a ballet dancer in "Center Stage," tapping into her sci-fi roots launched Zoe Saldana into becoming a top-billed actor. Starring in blockbuster franchises "Avatar," "Star Trek," and the Marvel Cinematic Universe has made her one of the highest-grossing actresses in Hollywood. Per Celebrity Net Worth, "In 2019, Zoe Saldana was named the second-highest-grossing film actress of all time, behind Scarlett Johansson." Her films have grossed billions of dollars worldwide, and Saldana's nabbed roles in three of the five highest-grossing films of all time ("Avatar," "Avengers: End Game," and "Avengers: Infinity War").
So, let's crunch those numbers. Playing the character Gamora in four MCU movies thus far (two "Guardians of the Galaxy" and two "Avengers" films) brought in billions worldwide. And her starring role as Neytiri in James Cameron's "Avatar" — which has continually duked it out with "Endgame" as the highest grossing movie of all-time — brought in nearly $3 billion in profit (via International Business Times). And let's not forget Saldana's part in the "Star Trek" franchise. Playing fan-favorite Nyota Uhura helped the film gross over $1 billion.
When it comes to choosing parts, Saldana's geek power must come with a sixth sense for commercial success. That being said, she credits her husband, Marco Perego Saldana, with encouraging her to keep developing her craft. "He's always pushing me to take risks," Saldana told Conrad Magazine. "He tells me that I should never worry about the box-office potential of a film but to just do work that interests me."
Before making it big, Zoe Saldana was a burger queen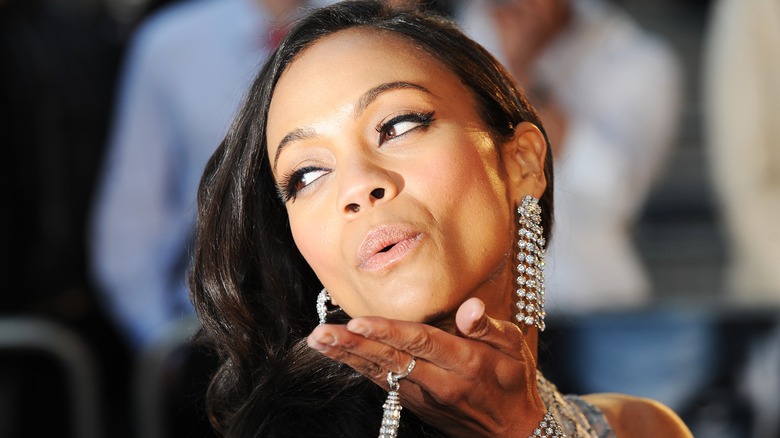 We all have to start somewhere, and for Zoe Saldana, it was at the home of the Whopper. Her first job was at Burger King, where she liked working the drive-thru more than the register. But every job has an expiration point. "When I was in my teens, I had a job at Burger King, which I really enjoyed," she once said (via Inquisitr)."Then one day I was in the middle of a transaction and realized I didn't enjoy it any more. I said to the manager there and then, 'Can you finish this?' and quit."
Before she quit her job, Saldana claims she was constantly fired for giving food to homeless people, but she'd get rehired regularly because they were low on staff. "I think I was very empathetic. When homeless people came in, I was always give them food, and I would get caught," she told US Weekly.
According to Yahoo!, Saldana isn't the only celeb who's worked at Burger King. Queen Latifah was an employee at the age of 15, her first job, and Jennifer Hudson also worked at Burger King as a teen. Olivia Munn joins the list, but her BK experience was working the drive-thru in Tokyo, Japan. Meanwhile, Pink, James Franco, Rachel McAdams, Macy Gray, Sharon Stone, and Jay Leno all reportedly worked at rival fast food joint McDonalds before making it big.
She's constantly mistaken for Thandiwe Newton … even by her own mother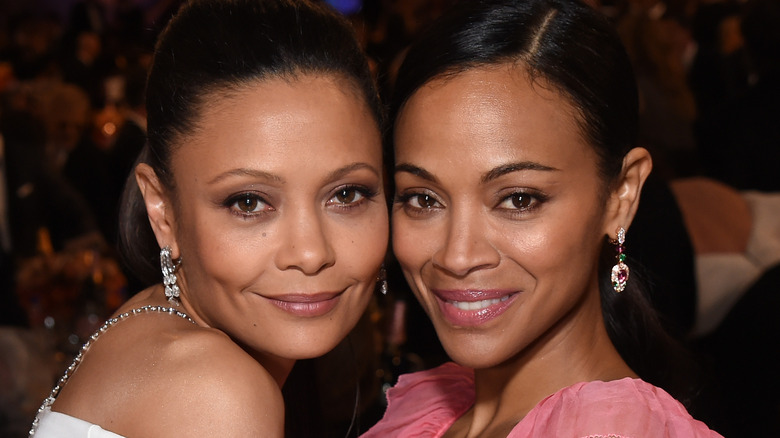 As far as celebrity doppelgangers go, being compared to Thandiwe Newton isn't shabby. Zoe Saldana has shared that she's often mistaken for Newton by fans, and more than once by her own mother. "My mom still thinks that I'm in 'Westworld,'" she told James Corden in 2019. "I'm like, 'Years ago you thought that I was in 'Traffic.' Mom, you did not give birth to Thandiwe Newton.'"
Newton stars as Maeve Millay on the HBO series, but Saldana's mom is convinced her daughter plays the old west android. "She was like, 'Well, your show is on HBO.' I'm like, 'Which one?' She's like, 'Westworld.' I said, 'When are you going to understand that I'm not Thandiwe Newton?'"
To be fair, Newton's been mistaken for the "Avatar" star, as well. At SoulCycle in Los Angeles, Newton frequently ran into Victoria Beckham. "We were chatting away when she said, 'It's so great that you are here when you are pregnant,'" Newton said on The Graham Norton Show (via Harper's Bazaar). Newton was not pregnant (though she recently had a baby), and as the conversation progressed, she realized the former Spice Girl thought she was Saldana. "Victoria was absolutely mortified! It was actually okay as Zoe is a rare beauty, but really? Up close? Come on! And, I am British!"
Zoe Saldana's husband has taken on her last name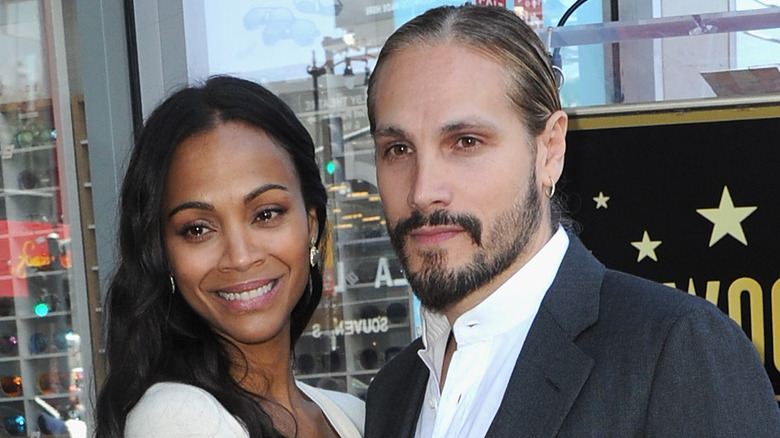 When Zoe Saldana first met Italian artist Marco Perego at a party, she jokes that she ran the opposite way because she thought he was a player. She wasn't completely wrong —he was once a soccer player — but she quickly learned his dedication runs deep. When they discreetly got hitched after just three months of dating, he surprised her by insisting on taking on her name. She told InStyle magazine (via Buzzfeed) that she was the one nervous to buck tradition. "I tried to talk him out of it. 'If you use my name, you're going to be emasculated by your community of artists, by your Latin community of men, by the world.'" Her hubby shrugged it off with a simple, "Ah Zoe, I don't give a s**t."
The actor told Women's Health that he's a feminist through-and-through. "I have the most perfect partner in my life," she said. "I've never met a male like my husband, who [believes] any woman is naturally his equal."
These days, the couple is raising their three sons in a gender-neutral home, giving them all types of toys and setting an example as a couple. "'We have a very gender-neutral environment where my husband participates in a lot of tasks that were normally given to women and vice versa," she told Us Weekly.
She spent the latter part of her childhood in the Domincan Republic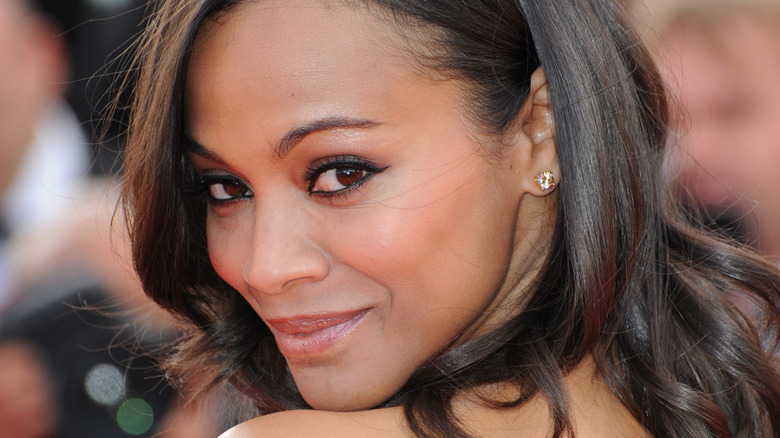 Born in New Jersey and raised in Queens, N.Y. Zoe Saldana had a city upbringing until tragedy struck. Per Conrad Magazine, "At the age of 10 … tragedy struck when [Saldana's] beloved dad, Aridio Saldaña, was killed in a car crash." Following the death of Saldana's father, her mother, Asalia, moved the family to the actor's grandmother's house in the Dominican Republic. "Our mom would live with us there for one year and then spend one year in New York so she could make money to send back home for us," she told W magazine.
Despite the circumstances, Saldana looked back on her time in the Dominican Republic fondly in "Zoe Saldana Presents My Hero," the web-series she executive produced. "Growing up in Dominican Republic, oh my God those memories were so awesome," she said. "You could be sitting out on the porch and your parents and your grandparents would be sitting in a rocking chair, and you'd be just like listening to music or someone would be telling stories. It definitely brought the family together."
Saldana enrolled in the ECOS Espacio de Danza Academy, where she studied various dance forms but fell in love with ballet, which came in handy when she went for her breakout roll years later in 'Center Stage." "We were not wealthy, and we lived in a very simple, humble house," she said. "I remember the guava tree. I remember the mango tree and I miss the smell of our garden back there."
A life of crime doesn't suit her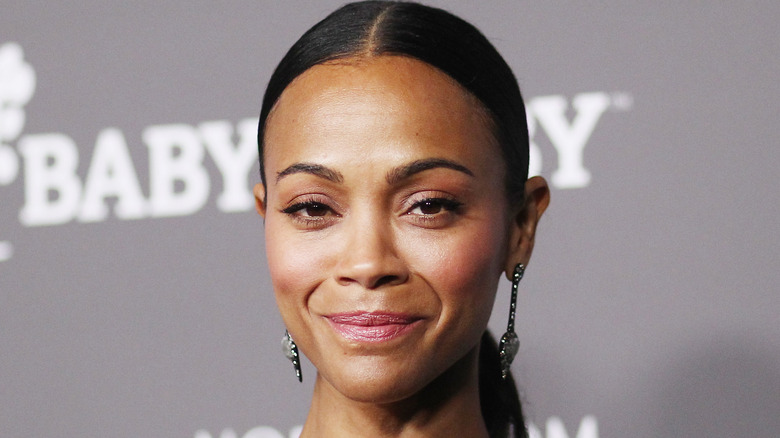 Zoe Saldana doesn't have the stomach for sticky fingers. During a 2016 interview with James Corden where she was joined by Julia Stiles, Saldana talked about how city life sped up her street smarts. "You have to grow up really fast," she said. "I must have been like seven when all of my friends were talking about shoplifting." At one point, Saldana got wrapped up in the world of petty crime. "I stole a pack of erasers and I ran for my life," she said. "I felt so bad I thought that I was going to die, so I went back to the grocery store and I waited in line and I returned it."
The cashier gave Saldana a very New York response when she came clean. "I'm thinking she's going to say thank you, but she was like, 'Move, move, move, you're holding up the line,'" she recalled.
Native New Yorker Stiles admitted to stealing a compact mirror from a drug store, but her nerves got the best of her and she ended up getting caught by a fellow shopper. The store decided to let her go after she burst into tears. Don't expect a heist movie with that pair anytime soon!
Much of Zoe Saldana's beauty routine comes from the kitchen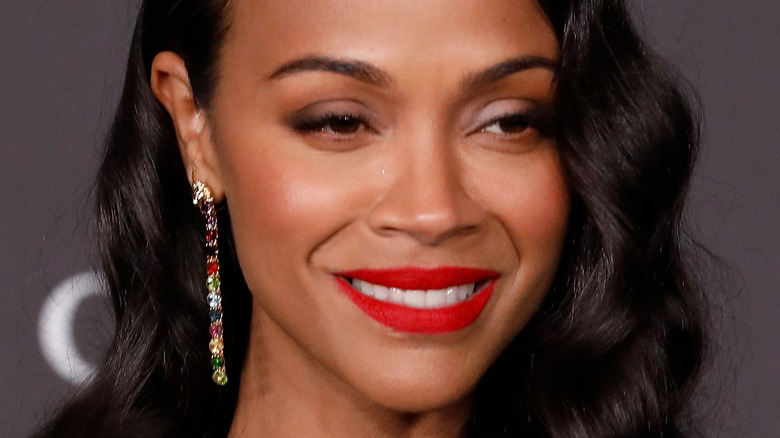 What do rum, vinegar, and avocados have in common? They've all done their part in giving Zoe Saldana her gorgeous glow. "Growing up in the Dominican Republic, I learned to be very organic with my beauty routine," she told Byrdie. "Cooking products are not just for cooking; you can actually use them for beauty, for wellness."
So, how has island life helped incorporate natural ingredients into her beauty regimen? Along with using fresh coconut milk on her skin and hair, Saldana says a coconut can then be repurposed to make coconut oil or cocoa butter. She likes to experiment with DIY treatments that use pure ingredients, like olive oil. And rum has more uses than one might think.
"In the islands, rum isn't only for drinking. You can actually put rum on your hair," she said. "If you put it on your ends, you get sort of an ombré thing. Because with the sun, the rum bleaches your hair. That was sort of a natural way of getting highlights." A monthly white vinegar rinse is another remedy she's used in her hair to restore its pH. And let's not forget the yummiest hair mask you can imagine. "Overripe avocados are perfect. You mash them up with a little olive oil, and let the mixture sit on your hair for 30 minutes. It makes me hungry, so I usually end up rinsing it out too soon," she told People.
Zoe Saldana's no stranger to a body cast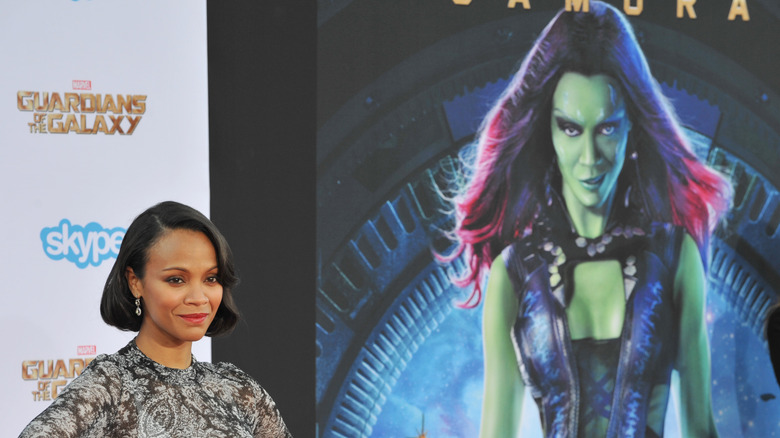 It's not easy being green, especially when it involves casting your entire head. We've seen Zoe Saldana turn blue in "Avatar" and green in "Guardians of the Galaxy," but what exactly goes into pulling off her iconic characters? Very early mornings and hours sitting still. "It's an arduous process. It starts at 3:30 in the morning," she told Wired.
When she first took on a role in "Guardians of the Galaxy," the process of transforming into Gamora took five hours. Along with hair and an intense amount of makeup and body paint, silicone prosthetics were applied to her face. "Her forehead is a prosthetic that I sculpted to create a new shadow line where her eyebrows once were," special effects makeup designer David White told Allure. "And her cheeks are prosthetics, too."
The prosthetics alone take hours to apply, and up to 45 minutes to remove. In the next movies, her time in the chair eventually shortened to around three hours. Saldana seems to take it with as much humor as possible but at the end of the day, making sure Gamora was as good-looking as she was bad*ss was important to her. "[Being pretty is] usually a thing that I don't think about with other characters that I play, but for some reason because I was going to be green and I was going to be the lead girl I just wanted teenage boys to find me attractive," she told Slash Film.
She wishes she had a private jet, but not for the reasons you'd imagine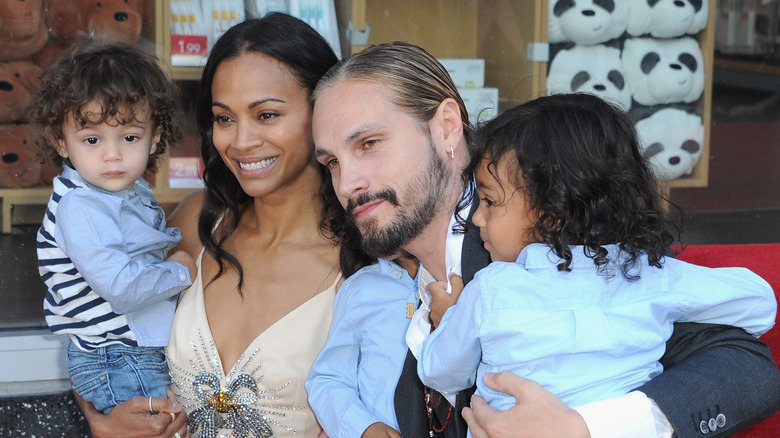 While she grew up with sisters, Zoe Saldana's now surrounded by boys. She has three sons with husband Marco Perego Saldana: twins Cy and Bowie and her youngest, Zen. She once revealed she'd get a private plane if she had a wish, so she can wrangle her three kiddos better on long flights. "It's a lot of work when you have three kids," she told US Weekly. "Sitting on a flight and feeling absolutely terrible that you are making people around you uncomfortable because your kids won't sit in their seats, they won't put their seatbelts on, they want TV, but they don't want the headphones on. It's hours of torture, and they're in a confined place with strangers."
Saldana isn't missing a beat as the only lady in the house. "Boys are insane and just as crazy as females are, but they're just as sensitive and just as kind but super hyper." She added, "You need a lot of physical energy to keep up with three boys … four boys because my husband is the biggest one."
In April 2020, Saldana took to Instagram to post a video of her twins arguing in the yard. "It's fun as hell, at all times — every waking minute of your day is spent trying to talk someone from beating someone else, or burning the house down, or flashing a neighbor, or smelling someone else's butt." Hopefully, she could take a few solo flights on that private jet for some me-time, too.
Britney Spears accidentally spilled the beans on Zoe Saldana's first pregnancy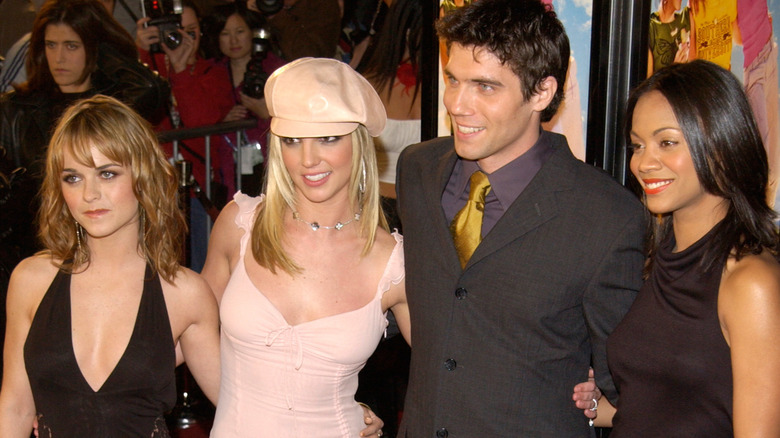 One of the first roles to launch Zoe Saldana into stardom was alongside Britney Spears in 2002's "Crossroads." While catching up on a flight years later, Saldana revealed to the pop star that she was pregnant with twin sons, but she forgot to mention she was keeping that bit of news under wraps. A few days later, Spears was asked if she and Saldana would work together again during an Entertainment Tonight interview, and her response was candid. "Who knows? That's a very good idea," Spears answered (via Harper's Bazaar). "But she's pregnant with twins right now. So I'm sure she's got a huge future ahead of her."
Though Saldana and her husband hadn't plan to reveal the pregnancy yet, she's said she was never angry at Spears for the accidental reveal. "Literally the way that it happened was so innocent that I never even thought of holding her accountable to anything," she said on Watch What Happens Live, noting that she never directly told Spears to stay mum on the topic. "We weren't trying to hide it; we were just trying to be discreet. And then when she disclosed it, she was just being Britney. And I love her. I don't mean that in a negative way. I mean that in the way that she lives her life in such truth."
She's covered in ink, but keeps it discreet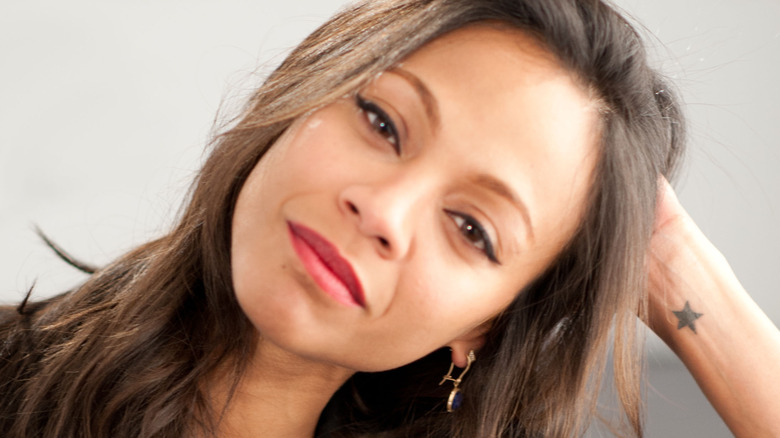 Somehow, Zoe Saldana's managed to hide ten or so tattoos on her svelte frame. A few have been captured in pictures (like the stars on her wrist and ankle), but she reportedly has a tattoo of her husband's face on her ribcage that was inked by famous artist Mark Mahoney. "My husband has tattoos coming out of his ears," she told James Corden on The Late Late Show (via Refinery 29), "and every time we would go get a tattoo for me, he would, like, push me aside, and he would end up getting a brand new tattoo. So, two years later, I finally got the tattoo."
Along with the stars and her husband's mug, a few of Saldana's tats have been discovered, including the word "heal" in Hebrew under her right breast, Arabic script on her right foot, and a phrase written in Persian on her left ribcage. And though Zoe told David Letterman back in 2014 that she had around ten tats, per the New York Daily News, the rest are strategically placed. "I'm running out of private places to put them on," she said.
Though she prefers to visit the tattoo parlor privately, she's been known to escort (and booze up) family members that are apprehensive about getting their first one. "I am very proud to say I have assisted many friends and family, my sister, to get tattoos," she once told Letterman (via E! News). But someone in Saldana's family probably isn't getting inked with her anytime soon. "My grandmother says that I look like a newspaper naked."
Source: Read Full Article