Syngin Colchester's wife, Tania Maduro, was certainly the more controversial cast member of the two when the couple first appeared on TLC's 90 Day Fiancé season 7. Now, Tania and Syngin—who had been married five months at the time—are appearing on the fifth season of 90 Day Fiancé: Happily Ever After, and it looks like Syngin's issues might make their way into the mix a little more often as well.
On the second episode of 90 Day Fiancé: Happily Ever After, Tania revealed that a car accident just a few months after her wedding to Syngin had left her incapacitated and unable to work her usual job as a bartender.
Meanwhile, her South African husband moved in with Tania (and out of the shed!) in Connecticut and began to hunt for a job to keep the couple financially afloat. But Tania revealed that she worried about Syngin's drinking habits—which she considered excessive.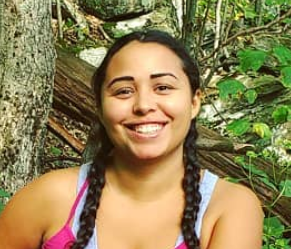 RELATED: '90 Day Fiancé': Tania Explains Why She Didn't Call Syngin Her Soulmate
RELATED: '90 Day Fiancé': Juliana Custodio Reveals What Tania Maduro Is Really Like
Tania worried about Syngin taking a bartending job
On the latest episode of 90 Day Fiancé: Happily Ever After, Tania and Syngin headed out for a visit with Tiana, Tania's sister. When Tiana asked the couple how they planned to support themselves for the time being, Syngin explained that he was going to start out with a local bartending job.
But his wife wasn't thrilled about the idea—especially dueto his history of "drinking on the job" when he previously served at bars.
Syngin told Tania's sister that it wasn't unheard of in hishome country to drink as a bartender. "In South Africa, you are allowed to haveshots with your customers," the 90 Day Fiancé star explained. "But yeah,sometimes maybe I did have too many shots and get a bit rowdy."
Still, Syngin claimed he knew what was at stake in the U.S.,especially because of the tenuous status of his work visa. "I'm definitely notgonna jeopardize any sh**," he assured Tania.
But Tania wasn't convinced. Syngin admitted that, as abartender in South Africa, he "did some wild, crazy sh**" and "got away with alot." Tania revealed that his boss had even called her at one point and claimedhe drank too much on the job and "broke chairs."
Tania's sister asked if it was accidental, and Syngin answeredhonestly, "No, not really. I got angry with people at the bar."
Now, Tania wondered if things would escalate even more now that Syngin was in the U.S. "I'm worried he's gonna come home drunk every night," she admitted. "It's kinda gotten a little worse since you've been here in the States."
Syngin pushed back against Tania's characterization of his drinking
When 90 Day Fiancé producers asked what Tania thought about Syngin's alcohol use, she confessed that it "raised a lot of red flags" for her. "I drink a lot," the 90 Day Fiancé star said. "So for me to say he drinks a lot, he drinks a lot."
Syngin protested, "I don't drink that much."
But Tania retorted, "What did you do before our wedding? Youwere supposed to be helping me, and you came home drunk. What did you do lastnight?"
"Got drunk," Syngin admitted sheepishly.
Tania's sister asked if Syngin felt he had a problem withdrinking—which he assured her wasn't the case. Still, he confessed that heoften drank in the mornings if he wanted to. "If I feel like having a beer at10 a.m., I'm having a beer at 10 a.m.," he declared, adding that he wouldsometimes "party again at night" even after having a drink before breakfast.
For Syngin, it all came down to freedom of choice. "If Iwant to have a beer, I'll have a beer," the 90 Day Fiancé starexclaimed.
"But you always want to have a beer," Tania pointed out. "Always."
Tania revealed her husband had lost a motorcycle while drunk
While Syngin didn't feel he had a problem with drinking, he did admit that things had gotten out of hand a time or two (or three). "I've lost shoes, shirts, relationships, phones, motorcycles," the 90 Day Fiancé star confessed.
"He lost a motorcycle!" Tania repeated incredulously.
"I paid, and he didn't even care about it," Syngin retorted.But Tania begged to differ, reminding Syngin that she was actually the one whoshouldered the expense. "Who paid?" she asked him. "You didn't have the moneyto pay it." (Syngin was silent in response.)
Even though he'd gotten rowdy in the past, Syngin assuredTania that he was ready to be more responsible. "In South Africa, yes, I wasvery free," he agreed. But he reminded his wife and sister-in-law that this wasa "different scenario" entirely. "There's a lot more on the line for me,"Syngin said. "I'm definitely not gonna sabotage any chances that I have."
Tania didn't seem to be convinced. "I don't want to be letdown," she reminded her husband.
While Syngin said he understood Tania's concerns, he told 90Day Fiancé producers that her lack of "trust" in him did sometimes hurt. Herevealed that he didn't always feel like his wife "took him seriously" orbelieved in him, especially when it came to work and stability.
Source: Read Full Article