The most successful solo artist in American musical history isn't Elvis Presley, Madonna, or another legendary rock or pop singer: It's country icon Garth Brooks, who, according to the Recording Industry Association of America, has sold a whopping 157 million albums. For the span of the 1990s, Brooks was an unstoppable hit machine, and fans couldn't get enough — he topped the country chart 18 times with memorable and catchy songs that blurred the lines between traditional country and more pop-oriented newfangled country, all the while selling out countless venues with a massive, eye-popping stage show that rivaled those of arena rock bands in the '80s.
Garth Brooks was an unrivaled superstar, and as such, he got to indulge most every professional whim that crossed his mind. Combine that with legions of loyal fans who followed his every thoroughly covered and scrutinized move, and that led to some bad choices, career missteps, and just plain strange periods in the life of the singer. Here then are the oddest things that Garth Brooks ever did (or had done to him).
When Garth Brooks met his wife in the middle of a melee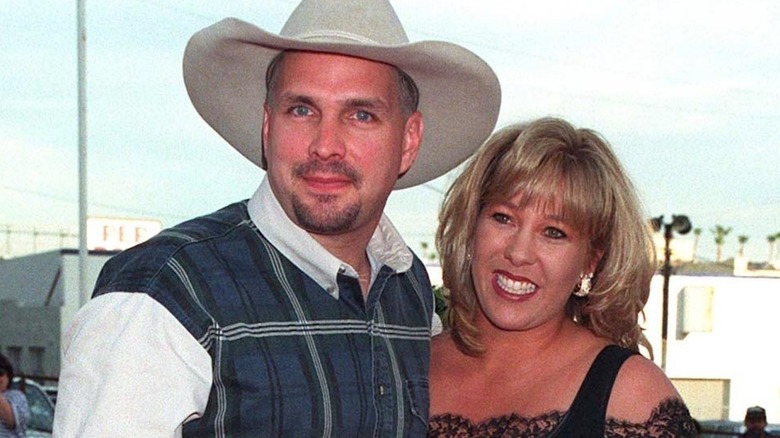 In 2005, Garth Brooks legally and officially became one half of a country music power couple when he married fellow superstar Trisha Yearwood. According to Closer Weekly, the two met during a recording session back in 1987, well before either were famous and when they were both in long-term relationships with other people.
In 1986, Brooks married Sandy Mahl, the mother of his three daughters, Taylor, August, and Allie. That relationship began in a very colorful way. According to The O'Colly, Brooks worked as a bouncer (and occasional performer) at the Tumbleweed Ballroom in Stillwater, Oklahoma, a bar and club near the campus of Oklahoma State University, where he was a student. Part of his job as a bouncer was to break up and deal with fights, and one night two women got into a brawl. According to Wide Open Country, Brooks helped one of the women when she got her hand stuck in a wall, and wouldn't you know it? That woman happened to be Sandy Mahl, the person who would become the first Mrs. Garth Brooks.
When Garth Brooks starred in a banned music video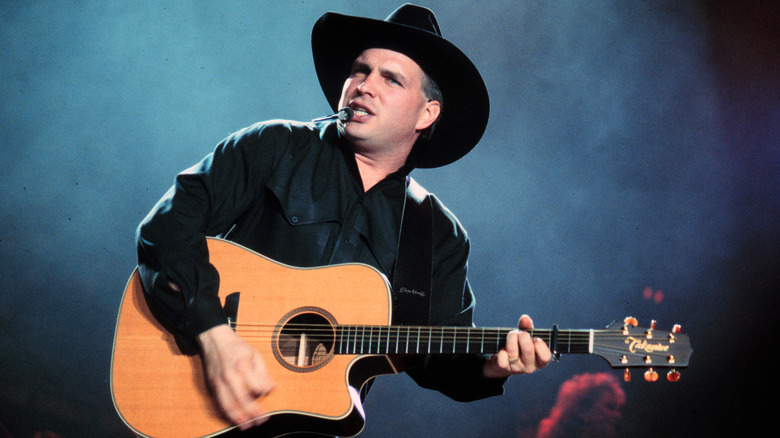 In 1991, Garth Brooks released "The Thunder Rolls," a bombastic, rock-inflected single from his second album, "No Fences." It would take the No. 1 spot on Billboard's Hot Country Songs list, his fifth straight chart-topper, but that popularity and success would come without the support of a widely aired video, a vital part of a major musician's marketing plan in the early 1990s.
Now, Brooks did make a music video for "The Thunder Rolls," an almost literal dramatic interpretation of the song's lyrics about a woman who, when her partner comes home too late on a stormy night, realizes he's cheating on her. The clip for the song raises the stakes and the action by dramatizing the fourth verse left out of the single cut. In this version, the wife grabs a gun and, it's heavily implied, shoots her man to death. The doomed two-timer is portrayed by Brooks himself, barely recognizable under a wig, glasses, and artificial beard.
According to Entertainment Weekly, "The Thunder Rolls" earned a nomination for Video of the Year at the CMA Awards, but country music-oriented TV channel The Nashville Network refused to air it, citing the violent content. Country Music Television then joined in on the ban, pulling the clip from heavy rotation, per The Oklahoman. VH1 added "The Thunder Rolls" to its playlist, making it the rare country video on its slate of soft rock.
When Garth Brooks stood up for the LGBTQ+ community and endured a backlash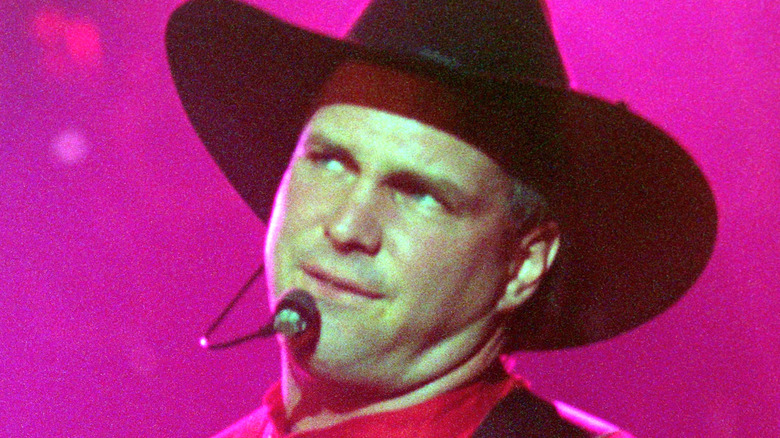 Between 1989 and early 1995, Garth Brooks' run on Billboard's Hot Country Songs was both unprecedented and staggeringly successful. Brooks took 22 songs to the top 10 of the chart, and 14 of those tunes went to #1, including "If Tomorrow Never Comes," "Shameless," and "American Honky-Tonk Bar Association." But that wasn't an uninterrupted streak. In 1992, that span of unparalleled chart dominance was interrupted when "We Shall Be Free" topped out at No. 12, a relative bomb for peak-era Garth Brooks.
The song was a bit of a departure for Brooks. Co-written with Stephanie Davis, the song was an emotional, inspirational, progressive plea for tolerance. That's all well and good, but according to Rolling Stone, country radio programmers around the U.S. had a problem with one random line in the song: "'Cause we shall be free," Brooks wished, "when we're free to love anyone we choose." Because of that acknowledgement and tacit acceptance of the LGBTQ+ community, "We Shall Be Free" didn't get as much radio airplay as it could have.
When Garth Brooks allegedly didn't want to be upstaged by a tornado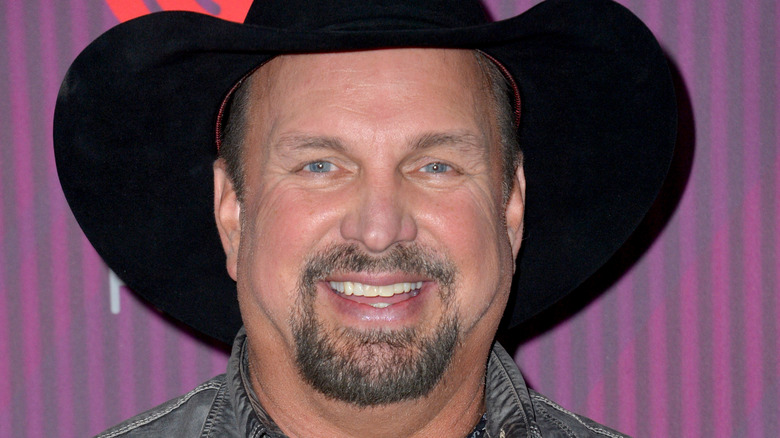 Apart from his music videos, Garth Brooks never did much acting; unlike musical predecessors Elvis Presley, Barbra Streisand, or Cher, he didn't get into moviemaking. However, it wasn't for a lack of trying on Hollywood's part. In 2013, according to Billboard, Lisa Sanderson, who partnered with Brooks in a production company called Red Strokes, filed a lawsuit against the country superstar alleging various professional offenses and seeking financial recompense. Tasked with finding Brooks acting work in movies and TV shows, Sanderson alleged that Brooks squandered multiple opportunities to do so, thus losing her money. According to Sanderson, Brooks turned down a chance to star in "Twister" because the CGI tornado would be the focus of the movie, not him. She also said he rejected a part in "Saving Private Ryan" because other members of the cast would garner more attention.
These were just a few of the claims made by Sanderson in the suit, but they're easily the strangest. In a statement to E! News, Brooks denied all of the allegations. He also issued a countersuit regarding a loan and, as The Tennessean reported, he ultimately won that battle. 
When Garth Brooks joined Kiss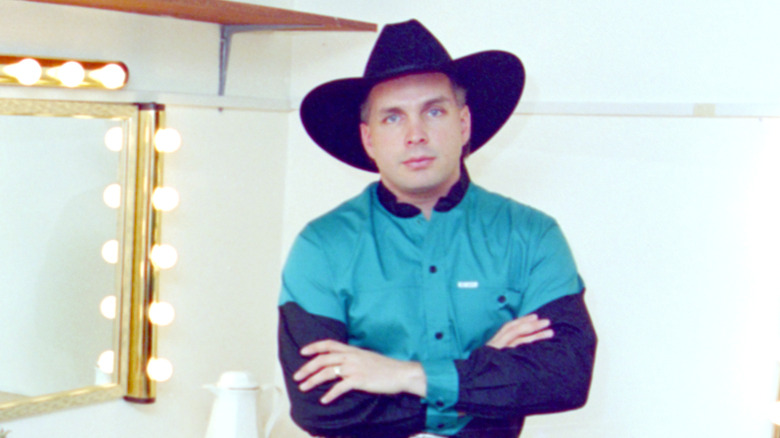 By the 2020s, the idea that musical genres were separate and distinct was a dying, dated notion. Major acts like Olivia Rodrigo, H.E.R., Maren Morris, and Tyler, the Creator boldly blend and bend musical forms in the name of creative expression. But in the mid-1990s, musical types were very distinct, and an artist could proverbially raise eyebrows or alienate fans or radio programmers if they dared explore outside the box where they'd been placed. In 1994, Mercury Records released "Kiss My A***: Classic Kiss Regrooved," a tribute album to the '70s costumed arena rock masters Kiss. Amidst the rock bands on the LP — Extreme, Dinosaur Jr., Anthrax — was the surprising inclusion of Garth Brooks covering the Kiss classic "Hard Luck Woman." The members of Kiss showed their approval by serving as Brooks' backing band on the track.
Critical reaction was mixed. "An unrecognizable Garth Brooks does 'Hard Luck Woman' under the very funny delusion that he's Rod Stewart," wrote Chris Willman of the Los Angeles Times, while Andrea Odintz of Rolling Stone called Brooks' contribution "one of the most faithful covers." Nevertheless, it was an odd, envelope-pushing moment when cowboy hat-wearing Brooks and a makeup-free Kiss performed together on "The Tonight Show" in July 1994.
When Garth Brooks signed autographs for almost an entire day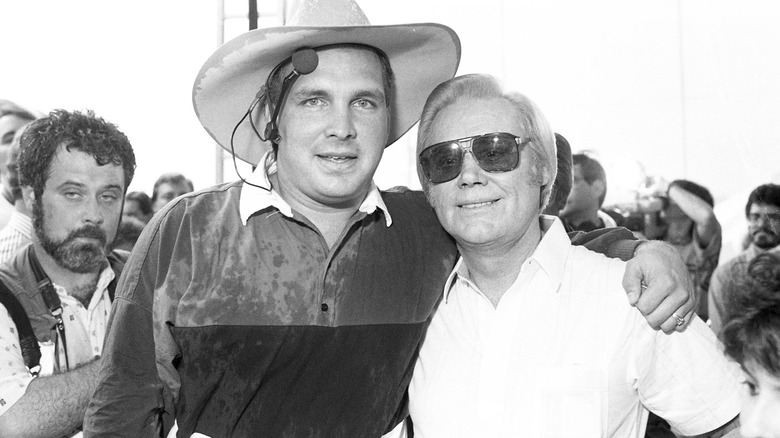 Most, if not all celebrities frequently and publicly give thanks to their fans. Without them, they correctly argue, their fabulous lives of wealth and creativity would not be possible. Other than some platitudes on Instagram, it's rare that a famous musician really does show their appreciation for their followers and the people who bought their albums. In the 1990s, right in the middle of his decade of dominance of the music world, Garth Brooks went through a grueling ordeal to show his fans that he loved them back — more than once.
According to Rolling Stone, Country Music Fan Fair, now branded as CMA Fest, is an annual event in Nashville, sort of a country music trade convention where superstars put themselves on display to interact with fans. In 1992, so many Fan Fair attendees stood in line to get an autograph from Brooks that he dutifully stayed put and signed something for everybody, a task that took 12 hours. He skipped the 1994 Fan Fair and in 1995 granted access only to successful bidders in a charity auction. In 1996, he seemingly made up for lost time. From the morning of June 11 through to the morning of June 12, Rolling Stone wrote he "stayed put for the next 23 hours and 10 minutes, signing autographs and posing for photos with fans until every last one was satisfied."
When Garth Brooks was fixated on a number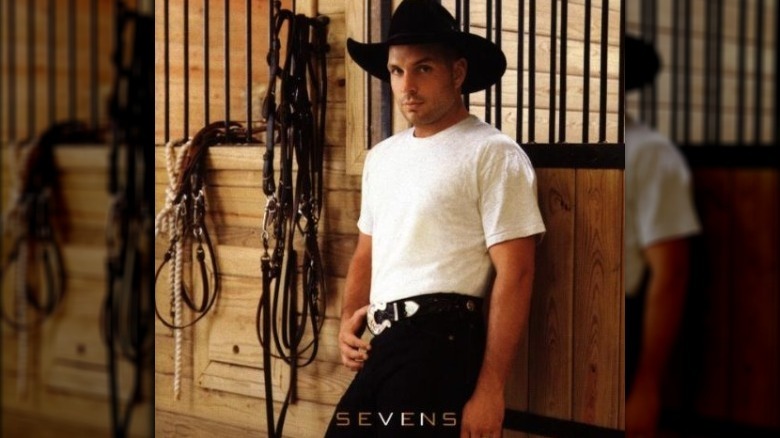 It ranks pretty low on the scale of beliefs or obsessions that could be considered odd, but Garth Brooks has a longstanding fascination with the number 7. Perhaps it goes back to the date he was born: the seventh day of February in 1962. In 1997, appropriately, Brooks released his seventh studio album, "Sevens." According to E! News, he tried to release it on August 7th of that year, the same day he was set to play a huge concert in New York City's Central Park, but it wasn't done in time and got delayed by a few months. When "Sevens" did reach stores, the initial shipment of copies were individually marked as first editions — all 777,777 of them, according to CMT. During his brief and ill-fated foray to become a professional baseball player in the late '90s and early 2000s, Brooks wore a jersey with "77" on the back.
As CMT noted in late 2013, Brooks sent out a fan email titled "first message from garth." It included the cryptic text, "The sevens have aligned. It has begun." That was an early sign that Brooks was returning to music after a virtual decade-long absence. Then, on July 7, 2014, Brooks' camp announced a press conference would be happening three days later, where he would then reveal a worldwide tour, per Saving Country Music.
When Garth Brooks tried to be a middle-aged baseball player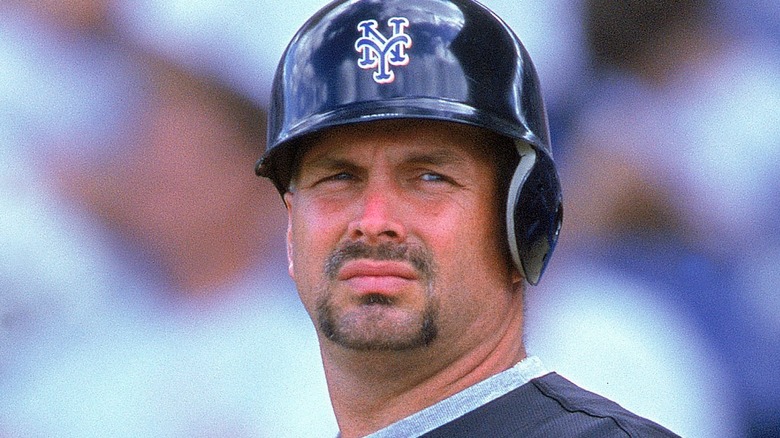 Garth Brooks attended Oklahoma State University on a track and field scholarship, and he also played baseball in high school. It's the latter sport that he pursued professionally, although he did so in the late '90s and early 2000s, well after he'd established himself as a country music superstar and when he was around 40 years old — the age by which most pro athletes have retired.
According to Baseball Reference, Brooks' late-in-life sports journey began in Seattle in 1998, when he took a few hours away from preparing for a string of concerts in the city by taking batting practice with the Seattle Mariners. He liked it so much, and apparently showed off enough raw talent, that in 1999, the San Diego Padres signed Brooks to play in spring training games, per the AP. Used primarily as a pinch-hitter and left-fielder, Brooks got one hit in 22 at-bats, making for a dismal average of .045.
Nevertheless, Brooks kept trying to make baseball happen for himself. The New York Mets gave him a shot in 2000, and he performed even worse, going 17 at-bats in spring training games without a single hit. Still not yet ready to hang up the cleats, Brooks took one final swing at pro ball four years later. In 2004, per the AP, he joined the Kansas City Royals' spring training team. He landed a hit in a game against the Mets. "I was even more surprised than the pitcher," Brooks quipped.
When Garth Brooks quit music on the same day he hit a sales milestone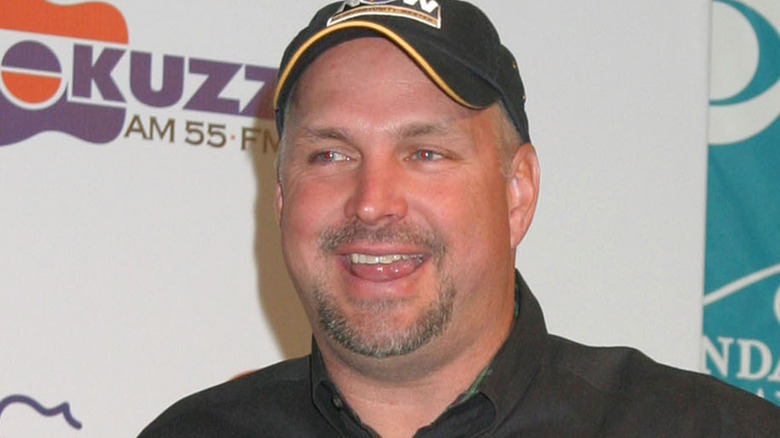 The day of October 26, 2000 looms large in the life and career of Garth Brooks. It was on that date, according to The Boot, when Capitol Records, Brooks' longtime label, threw a lavish party at the Gaylord Entertainment Center (now Bridgestone Arena) in country music's capital city of Nashville to announce and celebrate the fact that Brooks had sold 100 million copies of his albums in the United States alone. That's not only a remarkable achievement, it's also rare — only the Beatles have sold more records in the U.S. than Brooks, according to the RIAA. And Brooks did just in an extremely short period of time: just a little over 10 years.
And then, that very same day, Brooks announced that he was walking away from music, and that he'd retire to focus on his family, according to People. "It was a good time to take a real good look at life, because my former 10 years had not been a real life event. That decade of the '90s was crazy," he said.
Twelve years later, Brooks implied to HuffPost (via The Boot) that his retirement would end when his youngest daughter, Allie, turned 18, in 2014. Sure enough, at the end of 2013, he announced on "GMA" that he'd resume touring the following year. 
When Garth Brooks objected to stores to selling used copies of his albums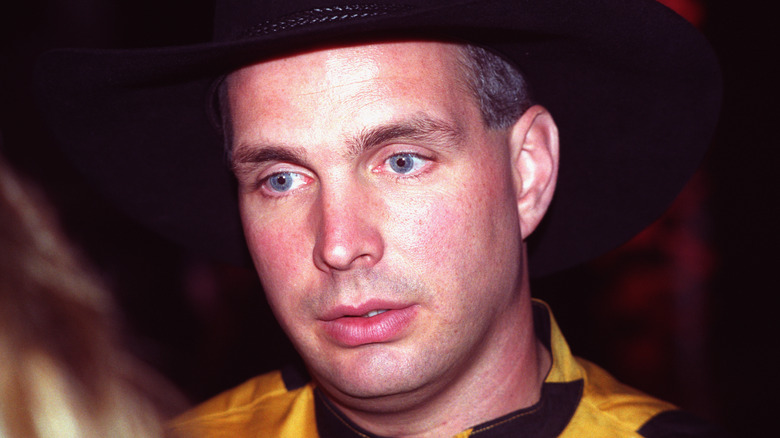 Garth Brooks sold 100 million albums in the 1990s, according to AARP, and a sizable part of that tally came from his first three blockbuster records, "Garth Brooks," "No Fences," and "Ropin' the Wind." By 1993, according to the Seattle Post-Intelligencer (via the Deseret News), he was already heralded as the top-selling artist of the decade, which is when he decided that he didn't care for the secondary CD market. That year, Brooks proclaimed that independent stores or large retail chains that also sold used CDs, including his CDs, would no longer be allowed to sell his new product. The movie came after Wherehouse Records announced its intention to sell used items. While this would naturally lead consumers to purchase higher-priced new copies of things they could otherwise get pre-owned, Brooks argued that it wasn't about his bank account. He reasoned that other, lesser-selling artists would financially suffer, because no royalties get paid to writers, artists, or labels when a used CD was sold.
Brooks certainly didn't make any friends in the retail music industry. According to Willamette Week, the large Portland, Oregon indie record store Music Millennium offered to buy Brooks CDs and cassettes from the public, and then threw them onto a big bonfire.
When Garth Brooks was a different guy altogether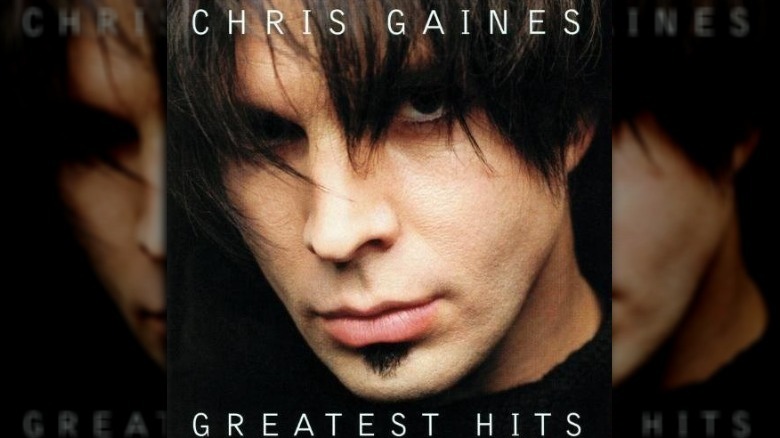 After a decade of dominating country music, what could Garth Brooks do next? Soft rock. But rather than try out a new style of music, Brooks presented himself as a character, an Australian singer named Chris Gaines. As Stereogum recalled, Brooks planned to make a Gaines movie called "The Lamb," and in 1999 he released an album alternately titled "Greatest Hits" and "In the Life of Chris Gaines," a pre-soundtrack to that film. The music inside: softly sung adult contemporary, ostensibly an overview of the fake Gaines' numerous fictional hits. The cover: Brooks done up as Gaines, scowling beneath floppy bangs, eyeshadow, and a soul patch.
To promote the project, Brooks portrayed Gaines in "Behind the Life of Chris Gaines," a VH1 special in the style of its then-popular "Behind the Music" biography series. This provided a lot of Gaines backstory, like how he was in a shady record deal because of a manipulative manager, and, as Westworld put it, "random unexplained commentary from Billy Joel." Gaines was also the focal point of an NBC special and he was even the musical guest on an episode of "Saturday Night Live"… which was hosted by Brooks.
The whole Chris Gaines was objectively successful. As Gaines, Brooks landed his one and only crossover pop hit on the Billboard Hot 100 — "Lost in You" hit No. 5 in 1999. The Gaines album sold two million copies. That's a lot, but that was still Brooks' worst performing album to that point.
When Garth Brooks stopped singing to see what was happening in the cheap seats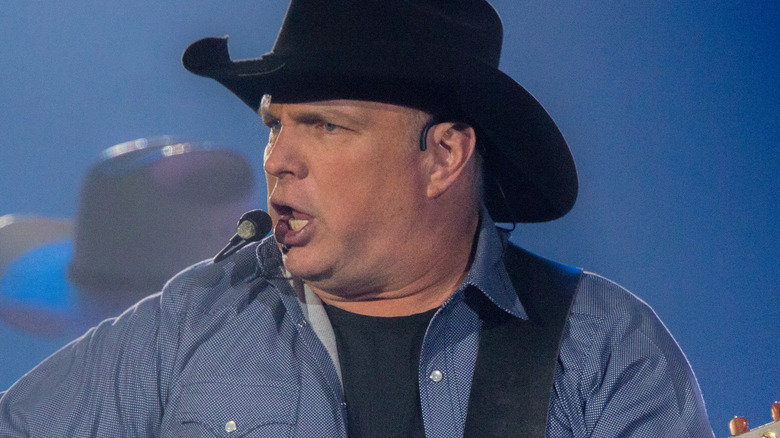 Over the last three decades, Garth Brooks has staged hundreds of elaborately produced and bombastic concerts, every moment carefully choreographed. But every now and then, he'll abruptly and surprisingly stop the singing and guitar playing on a whim, should something going on in the crowd catch his attention. In June 2014, Teresa Shaw trekked from Iowa to Minneapolis for a Brooks concert, according to USA Today, a present to herself after completing a round of chemotherapy treatment for cancer. During Brooks' performance of his hit "The Dance," Shaw held up a homemade sign reading, "Chemo this morning, Garth tonight. Enjoy the dance." "I was just hoping he would see it and maybe if I could get him to get it signed," Shaw told the outlet. Instead, Brooks noticed the sign, stopped the show, and had an usher help Shaw move to just next to the stage. He finished singing "The Dance," right to Shaw, then gave her his guitar.
Brooks played Oklahoma City in 2017, and when he started up "Unanswered Prayers," an attendee named Drew Bargsley took the opportunity to propose to girlfriend Chelsea Townsend, according to Country Rebel. From the stage, Brooks saw the proposal happen and shut down the concert. The singer also offered to foot the bill if the couple chose to honeymoon in Hawaii.
When a tweet led Garth Brooks to drop out of award show category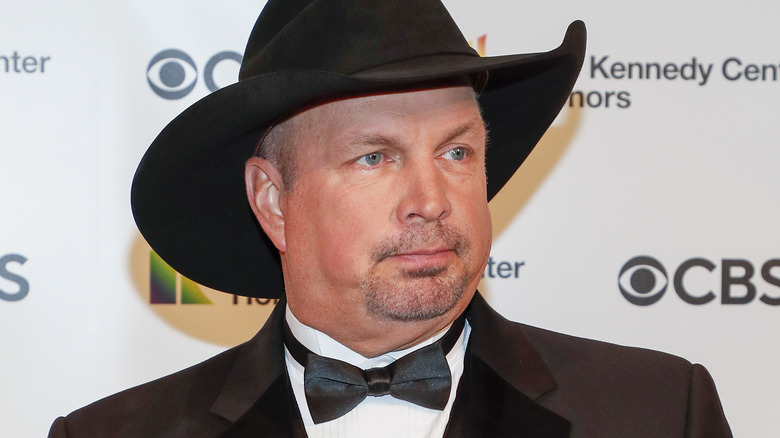 As he's by far the best-selling country music performer of all time, it's no surprise that Garth Brooks has been named the Country Music Association's "Entertainer of the Year" more than anyone else. According to ASCAP, he's received the award on seven occasions — four times in the 1990s and three more times in the 2010s after his obviously very successful post-sabbatical comeback. As Esquire pointed out, those latter-day wins are somewhat puzzling — Brooks last released new music in 2016, but he somehow was named country's most dominant force in 2017 and 2019.
Perhaps Brooks was feeling the guilt and awkwardness on July 29, 2020 when he held a press conference to announce that he would officially take his name out of consideration to be nominated for the CMA's "Entertainer of the Year" that annum. The singer was actually responding to public pressure and online criticism. "There's one tweet in there that really stuck in my head," Brooks said at the press conference (via Tennessean). "It said, 'Hey, man. This guy, why doesn't he just step down [and leave] the Entertainer for the next generation?' 100 percent agree."
Source: Read Full Article