The newest Candyman sequel is expected in theaters in the summer of 2020, and horror fans are pumped that Tony Todd is back. It's been a while since the last Candyman film, but Todd has stayed busy with a variety of projects. The actor made a name for himself in stage productions, on the silver screen, and on television. He also has a highly anticipated animated series coming to Netflix. Here's a snapshot of Todd's vast career and some hints of where to check out his work, until Candyman hits theaters.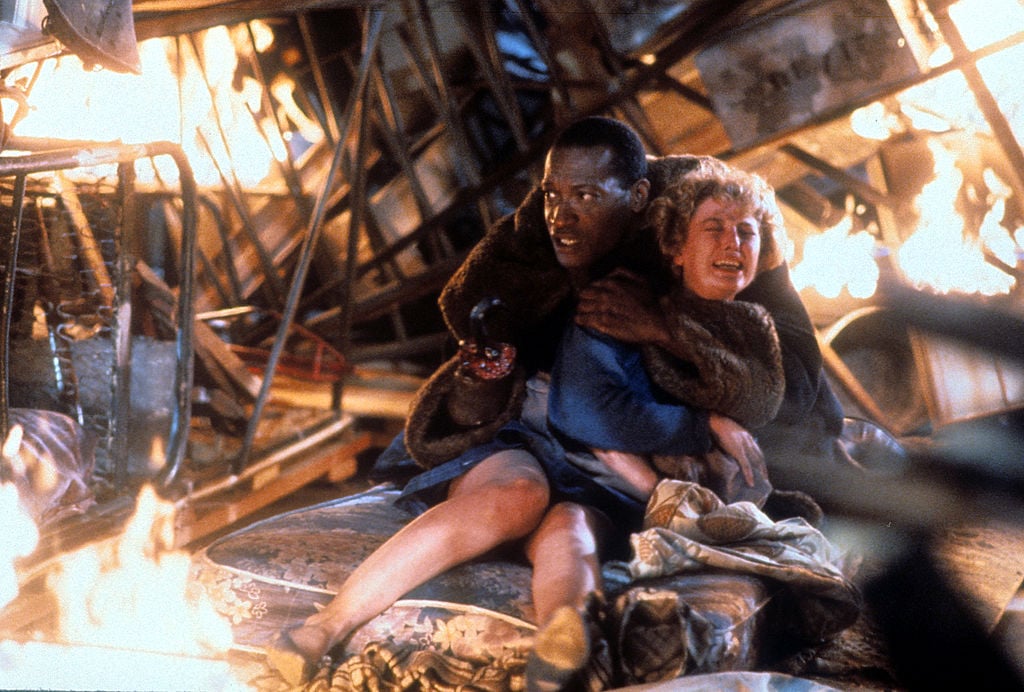 Tony Todd, stage actor
Like many film actors, Todd has logged some experience on stage. He acted in the Pulitzer-Prize winning play, No Place To Be Somebody, written by Charles Gordone and directed by Bill Duke. In the play, Todd portrayed Johnny Williams, a tavern-owner and pimp with ambitions to get the upper hand on rival mafia bosses. The role was a far cry from his iconic role as the hook-handed supernatural killer in Candyman.
Tony Todd, horror king
'Be my victim,' Candyman allured Helen Lyle in the 1992horror film, Candyman.
Candyman, wasn't merely a slasher flick, but it was afilm that highlighted socio-economic issues in inner-city Chicago. In it, the supernaturalmonster in the movie was the spirit of a black man who was victimized, tortured,and murdered in post-Civil War America.
Helen was the object of the killer's obsession because shewas the spitting image of his lover in life, and their love was the reason hewas targeted by an angry mob in the first place. As gruesome as Candyman'smurders were, audiences couldn't help but feel empathy for the man depicted inthe spirit's origin story.
"I am the writing onthe wall. The whisper in the classroom. Without these things, I am nothing. So nowI must shed innocent blood," Candyman confessed.
After Candyman, Todd became a horror icon, and as ofthis summer, he will have appeared in three sequels to the original. Adding tohis scream king cred, the actor has appeared in other niche films, including Nightof the Living Dead and the Final Destination series.
Besides Todd's undeniable talent for terrifying audiences,he has also appeared in other genres of film and television. Fans may havespotted him on 24, Chuck, The Young and the Restless, Star Trek: The NextGeneration, Star Trek: Deep Space Nine, and in the classic movie, Platoon.
Tony Todd, voice actor
Perceptive media buffs may recognize Todd's signaturebaritone speaking voice in several voice acting gigs. He is an accomplished actorwith a distinctive tone, which adds depth to his characters in animatedprojects, video games, and live-action productions.
Some of Todd's most notable voice acting projects include DC Comics-based animated pieces, including Lego DC Super Heroes: Justice League – Attack of the Legion of Doom!, Reign of the Supermen, and The Death and Return of Superman. Todd portrayed Darkseid in all three projects. Todd also took on another DC-based role with a high-profile stint on The Flash.
In 2020, fans can check out another performance by Todd in Netflix's Masters of the Universe: Revelation alongside Chris Wood, Mark Hamill, and Sarah Michelle Gellar, among others. The series will be an animated reboot of a 1980's cartoon, He–Man and the Masters of the Universe.
Tony Todd, fan favorite
While Todd's performances in scary roles are extremely convincing, the actor seems to have a much friendly attitude when it comes to real life. He delights fans with photo ops at conventions and organized media events and engages heavily on social media. Also, aside from Todd's passion for entertainment, he has also shares his interests in music and sports with Twitter followers.
Fans can check out many of Todd's projects streaming on various platforms, including Netflix, which houses The Flash, Star Trek: The Next Generation, Star Trek: Deep Space Nine, Candyman, and Final Destination among other content. Masters of the Universe: Revelation is expected to launch on Netflix in Summer of 2020.
Read more: 'The Flash' and 'Candyman': Surprising Ways They Are Connected
Source: Read Full Article