Brooklyn Nine-Nine is in its eighth and final season, and the show's finale is just around the corner. On Sept. 2, two new episodes of Brooklyn Nine-Nine aired on NBC, "Game of Boyles" and "Renewal." In "Renewal," Captain Raymond Holt (Andre Braugher) and his husband Kevin Cozner (Marc Evan Jackson) decide to renew their vows after reconciling in "Game of Boyles."
[Spoiler Alert: This article contains spoilers for season 8 episode 8 of Brooklyn Nine-Nine.]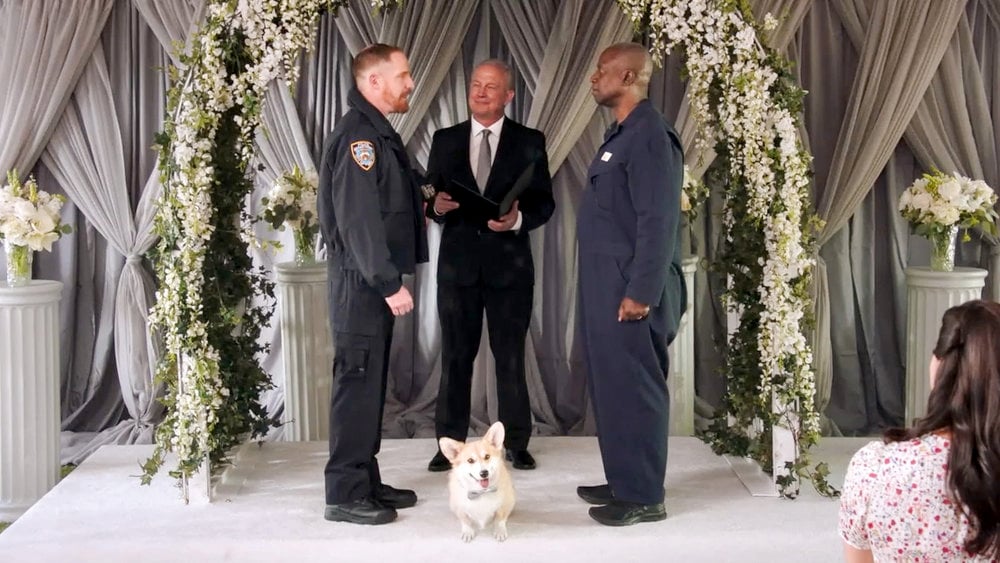 Holt and Kevin reconciled in season 8 of 'Brooklyn Nine-Nine'
At the start of the eighth season, fans learned that Kevin and Holt separated at some point during the past year. The two realized they still had feelings for one another and began couples counseling, but it took until "Game of Boyles" for them to officially reunite.
"Renewal" opens with Holt reminding Jake Peralta (Andy Samberg), Charles Boyle (Joe Lo Truglio), Terry Jeffords (Terry Crews), and Scully (Joel McKinnon Miller) that his original wedding with Kevin was extremely rushed because they did not know how long gay marriage would be legal.
Because of this, the two decided to renew their vows after reconciling. Holt then shares that he plans to retire from the NYPD after renewing his vows because his dedication to his job took away from his relationship with Kevin. Because Holt and Amy (Melissa Fumero) are working on their NYPD reform proposal, the squad decides not to tell Amy for the time being.
Jake and Holt have one final case together
While the group prepares for the wedding, Jake finds Holt checking his email. Holt discovers that Frank O'Sullivan (John C. McGinley), the head of the patrolman's union, messed with the COMPstat numbers to try and prevent the reform proposal from being approved.
To fix it, Holt and Jake must find a way to get access to O'Sullivan's laptop on the same day as the vow renewal. Scully, Charles, and Rosa stay behind to keep Kevin from finding out Holt and Jake left. Meanwhile, Terry and Amy work together to try and get O'Sullivan's fingerprint using Billy Joel merchandise.
Jake and Holt pose as gas-company employees to enter O'Sullivan's home that he shares with his mother, Carol (K Callan). Because it is Brooklyn Nine-Nine, the plan does not go the way the squad intended.
Terry accidentally lets it slip that Holt is retiring, which sends Amy into a panic. Carol figures out that Jake and Holt don't actually work for a gas company and holds them at gunpoint before forcing them to stay in the basement until police arrive.
While trying to keep Kevin from noticing Holt's absence, Rosa repeatedly clashes with Kevin and Holt's dog, Cheddar, causing Cheddar to make a scene at the venue.
Kevin saves the day in 'Brooklyn Nine-Nine'
Because of Cheddar's outburst, Kevin realizes that Holt left to take on a case. While waiting in the basement, Holt and Jake hear voices upstairs. Kevin and Rosa arrest them while pretending to be officers, and Kevin tells Holt that he does not want Holt to quit his job.
The two renew their vows, and then Holt takes O'Sullivan's laptop to One Police Plaza. The reform proposal is approved, and Holt is appointed deputy commissioner of police reform. He then appoints Amy as chief to help him with implementing the reform program.
At the end of the episode, Jake and Amy discuss Amy's promotion. While Amy worries that they won't be able to balance their jobs with taking care of their son, Jake assures her everything will work out.
Source: Read Full Article