Okay, so you know how literally no one has any idea how The Bachelor ends? Yeah, well Bachelor Nation has gone above and beyond trying to figure out what happens, and they analyzed the crap out of ABC's trailer for the finale. The result? Some pretty convincing clues based on Peter Weber's shirts, lol.
First of all, here's the trailer. Please watch so we're all on the same page, your boss definitely won't mind, it's fine, THIS IS IMPORTANT.
Exhibit A)
Peter wore a button-up blue shirt to introduce Madison to his family. He wore the same shirt during the now-iconic DON'T LET HER GO scene with his mom, implying that she's *definitely* talking about Madison, and also implying that Madison potentially self-eliminated at some point during this day.
Exhibit B)
Remember the scene in the last finale teaser, where Peter is crying and telling the camera "I don't even know how to do this, my heart is like broken right now?" Here's the clip:
Well, thanks to the new trailer, we know that the shirt he wore during the crying scene is the same freakin' shirt he wore on his day-time date with Madison:
Not sure what went wrong on the date, but clearly something happened to break Peter's poor heart and I need answers! Also, congratulations on being a group of actual geniuses, Bachelor Nation.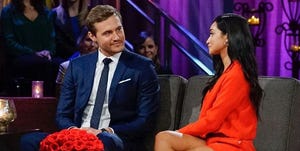 Source: Read Full Article