The following article contains mention of suicide and substance abuse.
When in doubt and there are no plans on a Saturday night, you can always count on an episode of "Saturday Night Live" to keep yourself entertained. The comedy sketch show has prompted both laughs and shocking moments since its first episode aired in 1975. What makes "Saturday Night Live" impressive is not only its nearly five-decade run on television, but the ever-changing cast across the years. 
Within 45 years of being on air, "SNL" has featured 156 cast members as of November 2020, per IMDb. The comedy series gave rise to the careers of many actors and show writers today, including Gilbert Gottfried, Larry David, and Damon Wayans. It's not always laughs for the cast on and off-camera; unfortunately, we've lost a few "SNL" cast members in the past few years. Let's take a moment to honor the "SNL" cast members you may not know died.
Chris Farley was known for his larger-than-life "Saturday Night Live" characters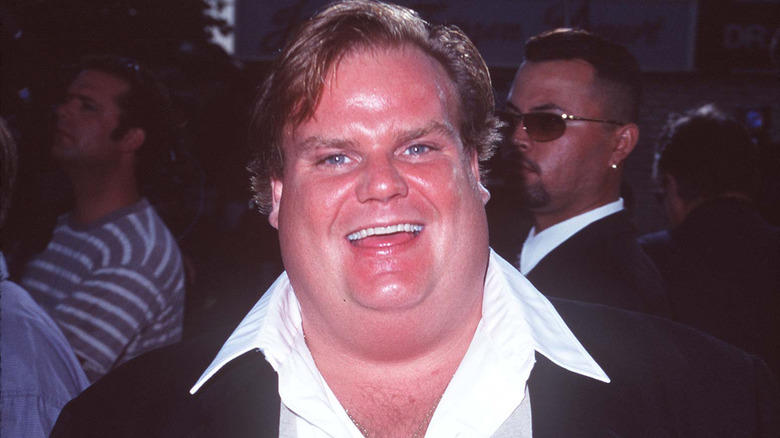 With an extroverted personality, towering frame, and booming voice, Chris Farley commanded the attention of "Saturday Night Live" viewers in every sketch he participated in…even if it went too far at times. Farley joined "Saturday Night Live" as a junior cast member in 1990 alongside actors Adam Sandler, Rob Schneider, David Spade, and Chris Rock, forming the group known as the "Bad Boys of SNL," per Biography. Farley was best known for his larger-than-life characters, such as his portrayal of Matt Foley, a thrice-divorced motivational speaker who made it a point to remind his audiences that he "lived in a van down by the river." Farley delivered laughs to "SNL" viewers up until 1995.
Two years later, the "SNL" star went on a four-day alcohol and drug binge, which involved heavy partying and spending time with call girls, as reported by Entertainment Weekly. A $300-per-hour call girl named Autumn claimed she spent Farley's final afternoon with him, and said he was smoking weed and drinking screwdrivers while behaving erratically. "I don't think he knew what he wanted," she told the outlet. "You could just tell he was on a rampage…. He just kept bouncing from room to room."
On Dec. 18, 1997, Farley was found unresponsive in his Chicago apartment by his younger brother. An autopsy revealed that the actor died hours before he was found, and the cause of death was ruled an accidental overdose of cocaine and morphine. Farley's poor health reportedly played a role in his death, as atherosclerosis was cited as a "significant contributing factor" (via Fandom).
Michael O'Donoghue appeared in SNL's first-ever sketch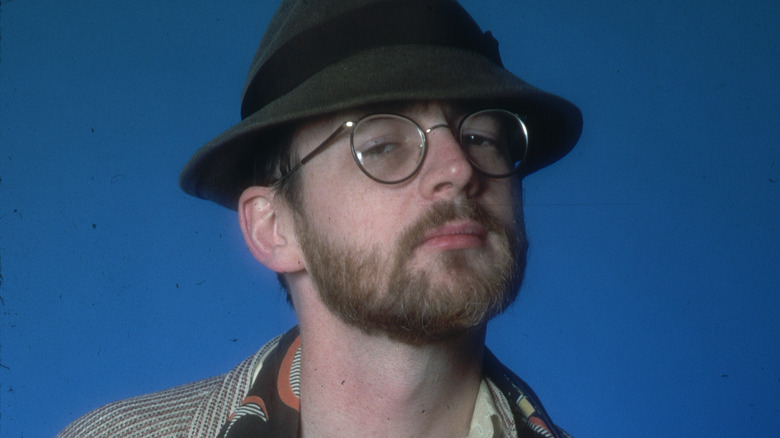 Michael O'Donoghue is a major contributor to the early days of "Saturday Night Live." As one of the OGs of the sketch series, O'Donoghue was the original head writer for "SNL." He was credited as an actor in the show's first three episodes, and even held a role in the first-ever sketch, "The Wolverines," per Vulture. Despite his creativity and comedic genius contributing to the success of the show, O'Donoghue had a rocky relationship with the staff behind the scenes. He was fired after season 3 for allegedly making sketches that mocked then-NBC president, Fred Silverman. O'Donoghue returned at the end of season 6 — thanks to Dick Ebersol, who took over as head of the staff in 1981 — unfortunately, he was fired again for conduct. He returned in season 11, but was fired for a final time (via Fandom).  
O'Donoghue died of a cerebral hemorrhage at age 54 on Nov. 8, 1994, per Vulture. It is without question that O'Donoghue left a massive mark on "SNL," and continues to influence comedy years after his death. "He wasn't very good at being the king. He was much better at being either the person plotting the revolution or the power behind the throne, telling the king what to do and think," Anne Beatts said of him in "Live from New York" (via Vulture). "I truly think you can say that without Michael O'Donoghue, there wouldn't have been a Saturday Night Live, and I think it's important to remember that."
Danitra Vance was the first Black woman casted on "Saturday Night Live"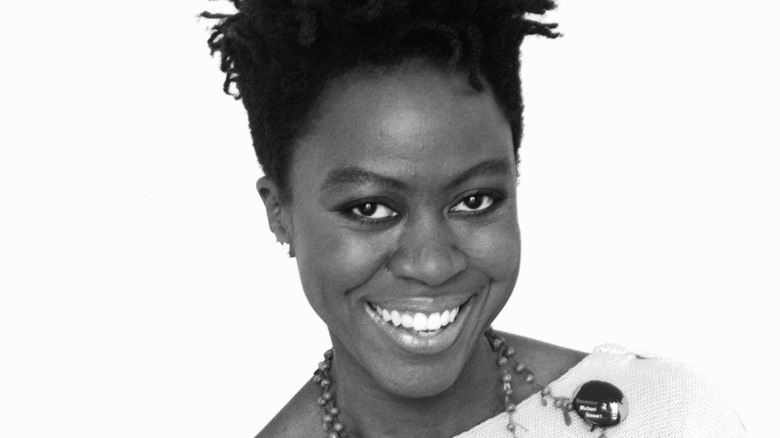 Danitra Vance broke barriers when she joined the cast of "Saturday Night Live" in 1985. According to Legacy.com, Vance was the first Black woman to become a repertory player for the show. Despite making history in her role, Vance often played frustratingly stereotypical characters such as a waitress, an unwed teen mother, or a maid. The actor turned her stereotypical roles into her own comedic bit by poking fun at them in a sketch where sings "I Play The Maids" — a parody of Barry Manilow's "I Write The Songs." The compartmentalization of Vance's career through these supporting roles resulted in her choice to leave "SNL" after only one season.
After appearing on "SNL," Vance took on roles in the film industry, but didn't find much success in it. However, she appeared in films such as "Sticky Fingers" (1988) and Limit Up (1990) before landing a starring role in 1992 film, "Jumpin' at the Boneyard," per IMDb. The actor also received an NAACP Image Award in 1986.
Vance was diagnosed with breast cancer in 1990, and underwent a single mastectomy (via Chicago Tribune). She shared her experiences in a one-woman skit, "The Radical Girl's Guide to Radical Mastectomy." Vance's cancer recurred in 1993, and she died of the disease on Aug. 21, 1994. She was 40 years old. In her obituary, The New York Times reported at the time that she is survived by her longtime companion, Jones Miller.
Phil Hartman was tragically murdered by his wife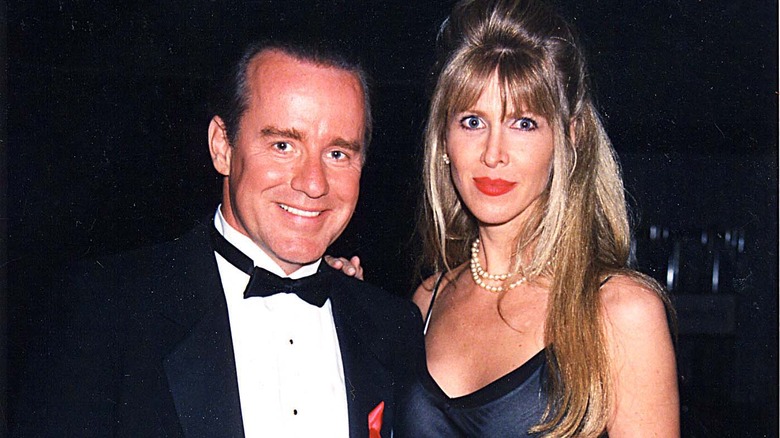 As a "Saturday Night Live" cast member for eight years, Phil Hartman is often believed to be one of the show's best actors. Hartman joined the "SNL" crew in 1986, where he instantly became the unlikely comedy star. Hartman was an adaptable actor that gave dimension to everyday characters and accurately made impressions of the rich and wealthy, such as Bill Clinton and Andy Griffith. With eight seasons and over 20 characters under his belt, Hartman retired from "SNL" in 1994 to focus on building his career in the film industry (via Fandom). The actor spoofed his departure at the end of 1993 season by wearing a cowboy hat and announcing that he's "going west," and explained he was moving from New York City to Los Angeles. Despite leaving the show, Hartman did host twice in 1996.
Hartman was tragically murdered by his wife Brynn in a murder-suicide on May 28, 1998. According to People, Hartman got into a fight with Brynn the night of their death. Hartman retreated to their bedroom to deescalate the situation. While Hartman was asleep, Brynn took a .38 Smith & Wesson from their two-gun collection and fatally shot the actor multiple times in the head and chest. Upon responding officers' arrival, Brynn died by suicide from a self-inflicted gunshot wound. The couple are survived by their two children, Sean and Birgen Hartman.
"SNL" is just one of George Coe's many acting credits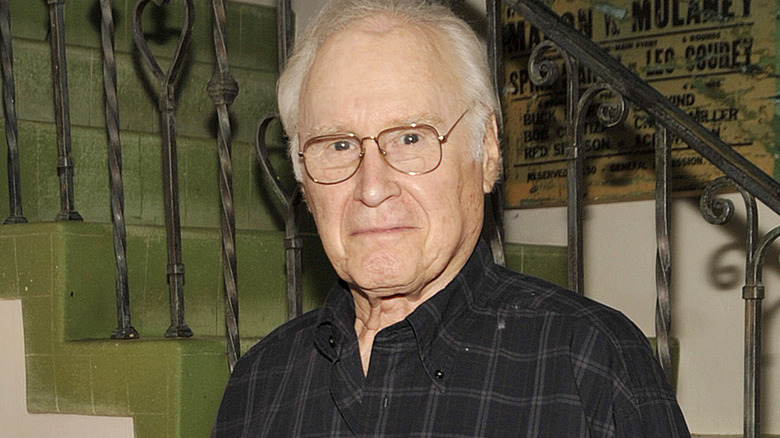 George Coe was one of the original cast members in the early days of "Saturday Night Live." He was credited as a member of Not Ready for Primetime Players in the series' inaugural episode, and occasionally appeared on the show throughout the decade. Described as a "parody TV pitchman" by the Los Angeles Times, Coe's sketches often consisted of him doing full promotions of interesting products, such as he Golden Needles — "the amazing new scientific breakthrough that combines the ancient art of Chinese acupuncture with the modern convenience of Haitian voodoo."
"Saturday Night Live" was just one of the many shows on Coe's extensive list of credits. Coe acted for over 50 years across television, film, commercial, and stage work. Coe appeared in TV shows and films such as "Transformers: Dark of The Moon" (2011), "Grey's Anatomy," and FXX's "Archer," according to his IMDb. As if that all wasn't already impressive enough, he served more than a dozen years on the Screen Actors Guild's national board of directors and held the vice president title for two years.
Coe died on July 18, 2015 at the age of 86. Prior to his death, he faced a number of illnesses including lymphoma, which he jokingly referred to as "cancer lite" (via Los Angeles Times). The actor is survived by his two daughters, Jennifer Coe and Amy Bickers.
Gilda Radner was one of the first actors to join the "SNL" cast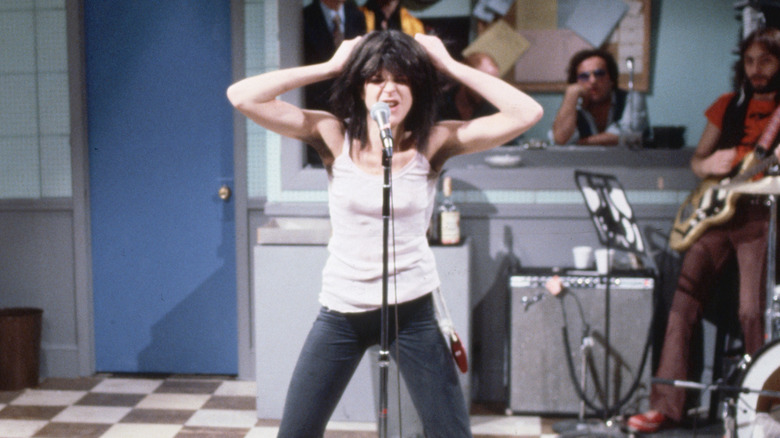 As an OG of the "Saturday Night Live" cast, Gilda Radner has experienced many of the "firsts" in the show's history. Described as one of the "brightest lights" on the show, Radner was one of the very first actors cast in "SNL," per Legacy. Radner played a number of memorable characters, including Baba Wawa, a comical riff on Barbara Walters. The character first upset Walters before she came to terms with just how funny it was — the hilarious character even became the renowned interviewer's unofficial nickname during the '70s. Besides, who can resist a joke from an episode of "Saturday Night Live?"
Radner appeared on "SNL" for its first five seasons before signing off in 1980, per Fandom. Aside from "SNL," Radner starred in a successful one-woman Broadway show called "Gilda Radner — Live From New York." The show featured raunchy content, and even became the place where she met her first husband, G.E. Smith, who would later become the musical director of "SNL." She later divorced Smith and married fellow actor Gene Wilder.
Radner was diagnosed with ovarian cancer in 1986 and underwent months of chemotherapy, according to the Associated Press. Unfortunately, Radner's cancer went into remission in 1988. Radner died in her sleep of the disease on May 20, 1989 at the age of 42. The news of her death reportedly broke during the "SNL" Saturday rehearsals. The show paid tribute to Radner in that week's episode by rerunning a sketch she did alongside Steve Martin, in which they share a hilariously romantic dance.
Charles Rocket is infamously known for his F-bomb during an "SNL" sketch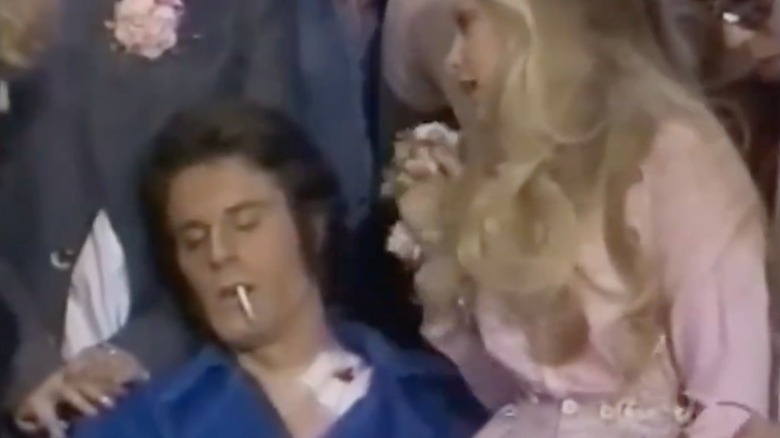 Cursing on the job can either be a cathartic experience or one that can possibly ruin your career. Unfortunately for Charles Rocket, his potty mouth resulted in him getting the boot from "Saturday Night Live." Rocket became infamous for dropping an F-bomb during the Feb. 21, 1981 episode of the show. The recurring sketches in the episode included a parody of the "Dallas" episode, "Who Shot JR," titled "Who Shot C.R.?" (via Fandom). When asked by Charlene Tilton how he felt about being shot, Rocket responded simply: "Oh, man, this is the first time I've ever been shot… I'd like to know who the f**k did it." While the "gaffe" may have prompted a few laughs from the cast, the "SNL" staff clearly wasn't happy about the complaints from viewers that followed shortly after.
After "SNL," Rocket worked in a number of independent projects, such as "Dumb and Dumber" and the "SNL" movie, "It's Pat!" Rocket also snagged small roles on shows, including "The King Of Queens" and "Law & Order: Criminal Intent." Rocket died by suicide on Oct. 7, 2005 at the age of 56. According to the Seattle Times, Rocket's body was found in the field of his Canterbury, Connecticut home with his throat cut. The reasons behind his death are unknown.
Jan Hooks died of complications with throat cancer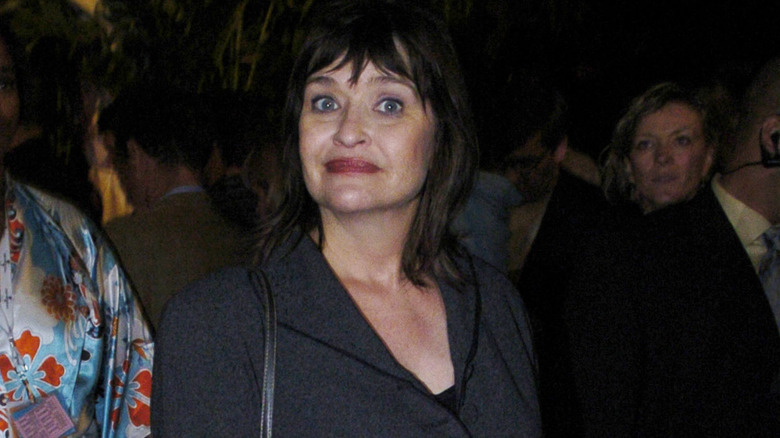 Jan Hooks surely knew how to prompt laughter out of the "Saturday Night Live" audience throughout the late '80s and '90s with her several political and pop culture personalities, including Hillary Clinton and a singer Sinead O'Connor. Initially being passed on for the "SNL" gig, Hooks joined the cast in 1986 (via Legacy). It was on the sketch show that she played several over-the-top characters like Candy Sweeney, one half of the notable Sweeney Sisters alongside Nora Dunn. In fact, Hooks' portrayal of Sweeney was so good that she performed in character in the opener of the 40th Emmy Awards in August 1988, per The Hollywood Reporter. Hooks left "SNL" in 1991 due to the stress of performing live (via Fandom), but she would make occasional cameos on the show between 1992 to 1994.
After appearing on the comedy show, Hooks joined the cast of the CBS sitcom "Designing Women," in which she became well-known for her role as Carlene Frazier Dobber. She also played Miss Leavey in the 1998 comedy, "Simon Birch." Hooks' occasionally acted in television and film throughout the '90s, but her acting career began losing momentum in the 2000s. Hooks' last role was in a 2013 episode of "The Cleveland Show," per IMDb. Hooks died of throat cancer on Oct. 9, 2014. She was 57 years old.
John Belushi struggled to revive his career in the film industry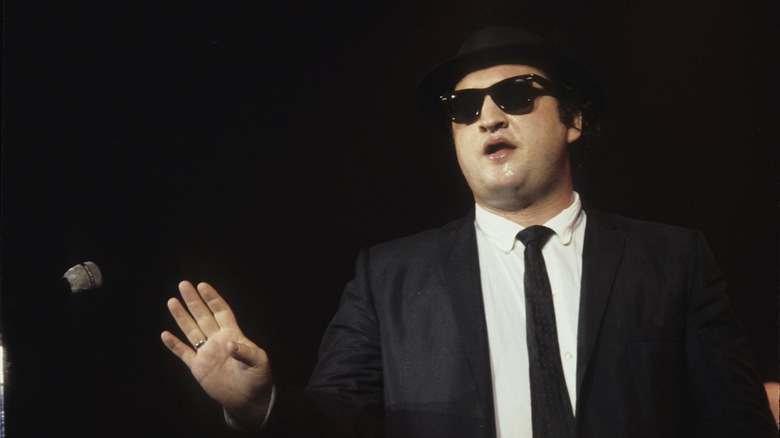 John Belushi was among the inaugural cast members of "Saturday Night Live," holding a spot on the show between the years of 1975 to 1979 (via Fandom). As an "SNL" star, Belushi teamed up with co-star Dan Aykroyd to become the ultimate comedic duo. The two performed multiple sketches and impersonations together, including the Blues Brothers and the Olympia Cafe sketches. Their onstage chemistry would spill over into their film careers, as the two landed roles in movies "Neighbors," and "1941."
The Emmy-winning actor stepped down from "SNL" as a regular cast member in May 1979 to pursue his movie career. Belushi successfully snagged roles in "National Lampoon's Animal House" in 1978 and "The Blues Brothers" in 1980. Belushi later struggled to revive his movie career following the poor box office reception of his previous films, per Biography. Belushi died of an accidental overdose of a combination of cocaine and heroin on Mar. 5, 1982. He was 33 years old. Although ruled an accidental overdose, there was some suspicion of foul play by his companion and drug dealer at the time, Cathy Smith, who was a former backup singer for '80s group, The Band. Smith pleaded no contest to involuntary manslaughter and several drug charges and served a 15-month prison sentence at California Institution for Women, per Deadline.
Tom Davis never lost his comedic skills while struggling with health issues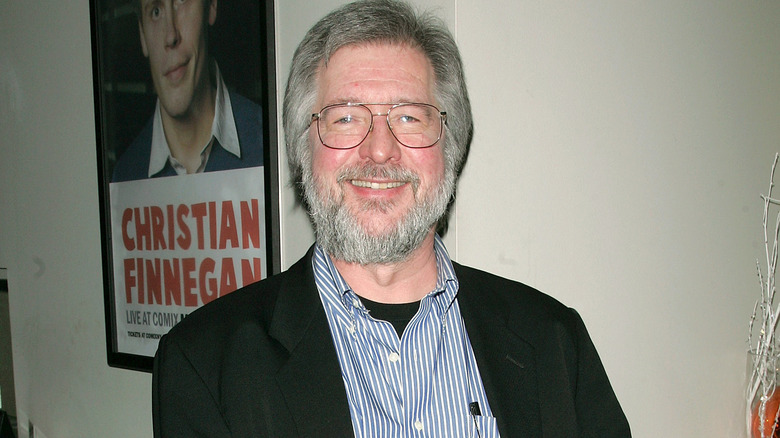 Joining the original "Saturday Night Live" cast in 1975, Tom Davis is best known for being one half of his comedy duo with Al Franken called "Franken & Davis." Davis has also been the mastermind behind the show's earliest sketches, including but not limited to "Theodoric of York, Medieval Barber" with Steve Martin, "Nick The Lounge Singer" with Bill Murray, "The Continental" with Christopher Walken, and "Coneheads" with Dan Aykroyd (via Fandom). Davis left the show in 1994 due to "feeling frozen out," per Legacy. After "SNL," Davis continued to collaborate with his fellow cast members on a number of show-related projects.
In 2009, Davis was diagnosed with head and neck cancer (via Incident Report), and was treated for it at Mount Sinai Hospital in New York. Despite his deteriorating health, Davis managed to keep the same level of quirkiness and comedic flare up until his final months — which he referred to his death as "deanimation." Davis wrote in a blog post, "I try to embrace the inevitable with whatever grace I can muster, and find the joy in each day. I've always been good at that, but now I'm getting really good at it." Davis died of complications with cancer in his Hudson Valley, N.Y. home on July 19, 2012. He is survived by his wife, Mimi Raleigh.
Tony Rosato was one of the three "SNL" cast members on two sketch shows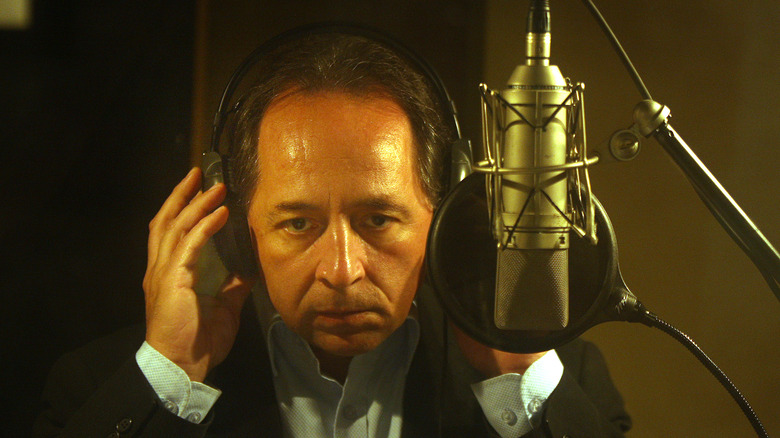 Tony Rosato has always had a thing for comedy — even before he joined the "Saturday Night Live" cast in 1981. After immigrating from Naples, Italy to Canada, Rosato began appearing on the Toronto-based comedy sketch show "SCTV" in the late 1970s. When he joined "SNL," he became one of only three performers to serve as a cast member on "SCTV" and "SNL," per Entertainment Weekly. Additionally, Rosato was known for his impression of John Belushi during an episode of "SCTV" (via Fandom). Rosato left "SNL" in 1982 to pursue other acting opportunities. His other screen credits include "Night Heat," "Due South," "Lonesome Dove," "L.A. Law," and two animated Super Mario Bros. shows (via IMDb).
Rosato died in his Toronto home on Jan. 10, 2017 at the age of 62. His agent Ryan Goldhar told Variety at the time that he died of a heart attack. Responding to the news of Rosato's death, the "SCTV" staff described him as a "warm, wonderful and extremely funny man" and added (via Entertainment Weekly), "In the last few years, Tony returned to Second City as a student and performer, sharing his wealth of experience, humour and charm with our students. He was truly loved by the students and faculty with whom he shared a stage. Our condolences go out to his family, peers and so many friends."
If you or someone you know is having suicidal thoughts, please call the National Suicide Prevention Lifeline at 1-800-273-TALK (8255) or text HOME to the Crisis Text Line at 741741.
If you or anyone you know is struggling with addiction issues, help is available. Visit the Substance Abuse and Mental Health Services Administration website or contact SAMHSA's National Helpline at 1-800-662-HELP (4357).
Source: Read Full Article