Actor Laci Mosley has a lot going on these days. The Texas native is starring in the long-awaited "iCarly" reboot, as well as the HBO comedy show, "A Black Lady Sketch Show." When she's not acting, Mosley is hosting the popular podcast "Scam Goddess" or appearing as a contributor on the ABC show "The Con."
While Mosley may be new to some, the comedian landed her first starring TV role in 2019 on the show "Florida Girls." The sitcom was about four girls living in a trailer park and appeared on Pop TV, the same network that brought us "Schitt's Creek." Mosley shared her excitement about "Florida Girls" on her Instagram with a photo of her in front of a billboard for it. She wrote in the caption, "I started acting in NYC, so to be standing in Times Square in front of our billboard for Florida Girls which was met with rave reviews from Time Magazine and The New York Times today is WILD."
While "Florida Girls" was Mosley's first leading role, it wasn't her first time on TV. The year before in 2018, Mosley had appeared on HBO's "Insecure" and in 2019, in the ABC series "Single Parents." Yet Mosley's real TV debut was in 2014, when she made an appearance on the PBS docuseries "History Detective." Since then, Mosley has continued to act in several other TV shows, according to her IMDb. However, it may be her popular podcast that helped launch Mosley into fame.
Laci Mosley roots for scammers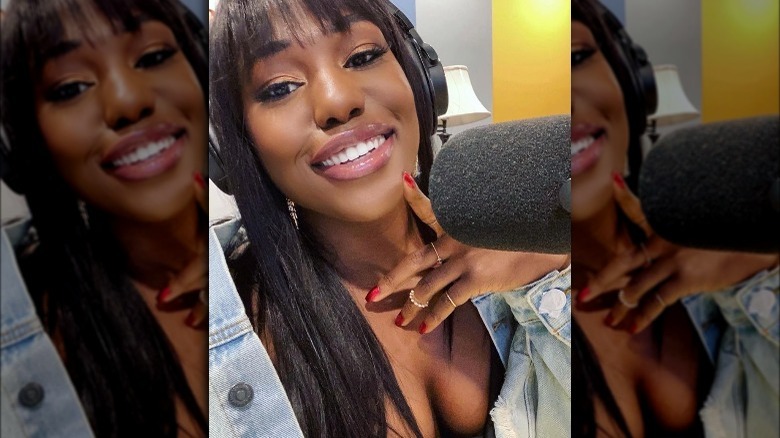 Laci Mosley hosts a popular podcast called "Scam Goddess," which according to the show's Instagram bio, is "a podcast dedicated to the fine art of fraud." Mosley opened up to The Verge about what drove her to do the show. "I just love people who do that. There's something about con artists, they have this confidence, usually to the point of delusion: even if you don't belong there, feeling like you belong there and showing people you belong there," she explained. "I don't want to do full-time crime, but at the same time, I love to see it. I love to watch people."
Mosley wanted her show to be different from a lot of the true-crime podcasts that are currently out there. "I really don't like to cover nice ladies getting murdered or whatever," she admitted. "I try to give people a break from that. So I try to choose scam artists that I can root for, for the most part."
The comedian is able to make the scammers almost likable, thanks to her great sense of humor. As for the format, Mosley opens the show with the latest scams in the news and has other comedians and actors come on as guests. It appears that the podcast even helped land Mosley the role of contributor on Whoopi Goldberg's show about con artists called "The Con." It's clear Mosley has become an expert at scams, but perhaps some of her witty podcasting comes from her years of improv.
Laci Mosley got her start in improv comedy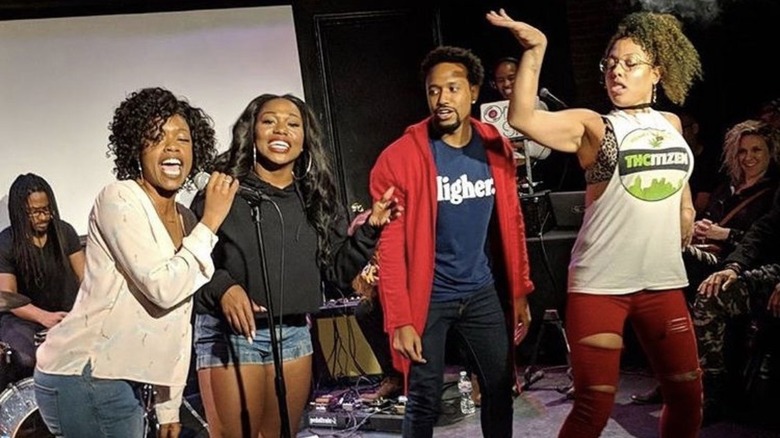 Laci Mosley has been making people laugh even before her podcast "Scam Goddess" aired. In fact, the actor got her start performing improv and sketch comedy at the Upright Citizens Brigade theater in Los Angeles. She posted a photo on her Instagram from a show she did there in 2018, captioning it: "Thank you to all the amazing people who made #TrapProv an over sold success again … So much work and love goes into this show by tons of talented people. This is the only place I get to be 100% of myself on stage and to a beautiful diverse audience!!" 
That same year, she posted about her sketch comedy debut at the theater, writing, "My Maude (sketch comedy show) debut is THIS WEDNESDAY 8:30pm at UCB Sunset!" Perhaps it's that experience in theater sketchy comedy that prepared Mosley for her role in the TV show, "A Black Lady Sketch Show." 
Mosley joined the Emmy Award-nominated HBO comedy in its second season. She posted about becoming part of the show on Instagram by sharing its promo video, as well as a tweet from showrunner Robin Thede welcoming her to the show. Mosley captioned the photo, "So thrilled to join the cast of "A Black Lady Sketch Show!" She added, "Everyone is BEYOND talented and I'm so excited to see the magic we made along with you guys!!" Yet this wasn't Mosley's only major TV show role that year.
Laci Mosley dealt with racism for her "iCarly" role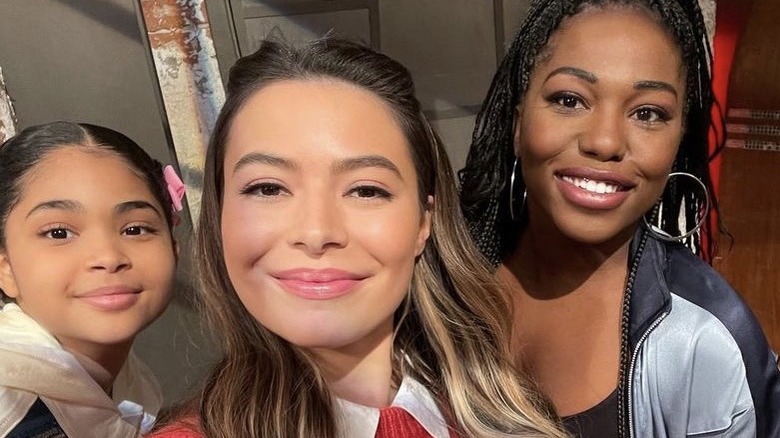 Laci Mosley joined the cast of the "iCarly" reboot, playing Miranda Cosgrove's character Carly's new best friend, Harper. Before fans even watched the show, they accused Mosley of replacing Carly's best friend in the original sitcom, Sam, played by Jennette McCurdy. Some even took to social media and made offensive, racist comments towards Mosley.
Mosley initially responded by sharing photos of the racist comments in her Instagram story, where she wrote (via People), "Stay mad. I felt silly being upset by racism cause it's just how this terrible planet is but sometimes it still catches me off guard." She also tweeted about racist videos being made about her on TikTok. Mosley revealed on Twitter, "I was really caught off guard by the onslaught of racist trolls. I deleted a lot of comments but they keep coming on every platform. Being a Black woman is exhausting. We all deserve better."
"iCarly" released a statement about the comments, which read, "'iCarly' are proud to be racially diverse, not only in our crew but in our cast. We have recently seen reports of racism towards a member of our 'iCarly' cast, and it is not acceptable!" One of the show's writers, Franchesca Ramsey, also spoke out, tweeting, "Laci's character Harper isn't replacing Sam. No one could replace Jeanette McCurdy or her incredible talent! But it's both racist as hell & completely unfair to decide that Laci hasn't earned her role especially since the show isn't even out yet!!"
When it comes to her love life, Mosley is candid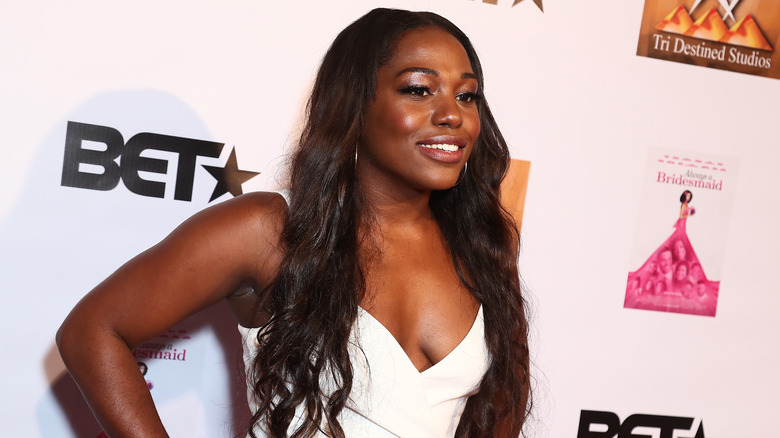 Laci Mosley appears to be single these days, which makes sense since the actor, comedian and podcaster is clearly quite busy. She even addressed her choice to put work before dating on an episode of her podcast, "Scam Goddess." According to The Verge, when speaking with her guest, actor Jameela Jamil, Mosley said, "I mean honestly, love is a numbers game. I treat it like the casino … I used to not date at all." When Jamil asked her why, Mosley admitted, "I was busy. I was trying to get to the money." 
When it comes to her type, Mosley revealed on the Reality Bytes podcast (via Distractify), "It ranges from a Tessa Thompson to like a Michael B. Jordan, but not really. He's a little too fine for me… I like a fine man who doesn't know he's fine." Mosley also talked about being bisexual and dished that while she hasn't dated any women, she said, "I've made out with some." She continued, "It's an interesting part of my life. I keep trying to hint to my parents that I'm bi and they just kind of laugh."
The "Scam Goddess" divulged even more about her thoughts on relationships. She admitted, "I've kind of started to have this fear that there's no one in the world who's right for me," she admitted. "Like, I have a big personality. I'm very aggressive. I am very career-oriented… I think a lot of that is intimidating to men."
Laci Mosley isn't afraid to take a stand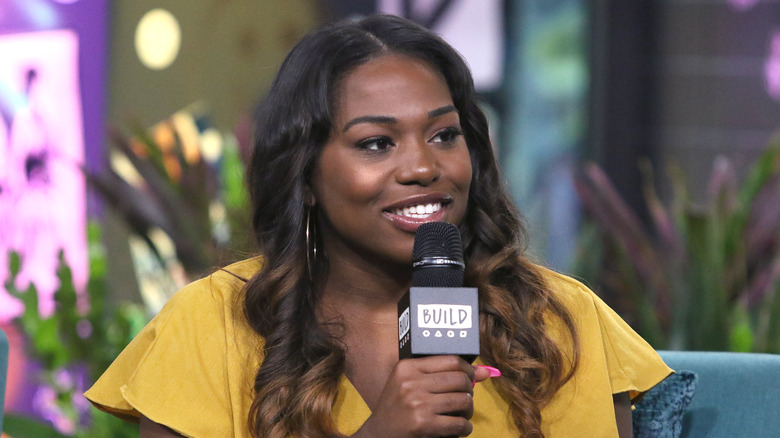 It's clear that comedian Laci Mosley isn't afraid to speak her mind. She rarely holds back when it comes to discussing any topic, whether it be in an interview or on her social media. When discussing the success of her podcast and her new role on the TV series, "The Con," Mosley admitted to The Verge, "I feel like I scammed my way into being an expert, but I've also just learned a lot about con artists studying them for years." Mosley didn't shy away from talking politics either, saying, "This is the time where I think everyone across the USA realized that everything we f***ing knew about our government was a scam. They have been lying to us. They are not helping us. In a time where everyone needed a stimulus, there was only one check that went out."
When abused with racist comments for her "iCarly" role, Mosley dealt with it head-on. She took to her Instagram to write a thoughtful post that read, in part, "Racism kills. I can't beg you to love me or yourselves enough to be kind to people but I can block you and protect my peace." She continued, "Black is beautiful and no amount of slurs or vitriol you dump online will change that."
Through her talent, sense of humor, and the way she's able to connect with her fans by being honest and real, Mosley has a long career ahead of her!
Source: Read Full Article