Hollywood is a pretty small world, and celebrity kids tend to hang out in the same circles — or at the very least know each other. Being best friends with a famous person requires a certain level of intimacy after all! Not only do these friends need to mesh with one another, but they also need to jive with constant cameras and the pressures of life in the spotlight. And who better than a celebrity (or celebrity kid) to understand another one? After years of rubbing elbows at events, or even working together à la Hailey Bieber and Kendall Jenner, becoming besties is a natural next step.
But of all the young Hollywood BFFs, we're curious about a particular pairing. Sofia Richie and Amelia Hamlin clearly have similar taste in guys, so are they (or were they) ever friends? Richie split with long-time boyfriend and Kourtney Kardashian's ex, Scott Disick, in 2020. Just two months later, Hamlin cozied up to Disick at a Halloween party — and despite her parents' insistence that the fling was "just a phase," the two are still together as of this writing. It's a cardinal rule that your friend's ex is off-limits, so does this mean that Richie and Hamlin were never friends in the first place? Let's investigate.
Sofia Richie and Amelia Hamlin run in the same social circles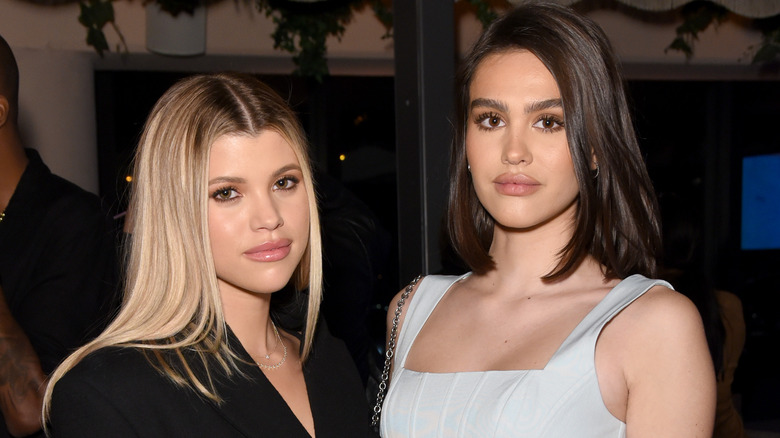 Once Amelia Hamlin began posting pictures of Scott Disick on social media, it didn't take fans long to start sleuthing. Case in point: One person posted a Reddit thread that showed Sofia Richie posing with Hamlin at an event in 2020 (as seen above). "Sofia & Amelia at Sofia's launch party for her collab with Rolla's jeans (Feb 2020) Scott was also in attendance," the thread said. "Less than 1 year ago. Also fun fact, Scott doesn't even follow Amelia on ig. Any bets on when he'll get around to doing that?"
The consensus was that while Richie and Hamlin clearly appeared to know one another and seemed friendly, they likely weren't close. This theory was backed up in April 2021, when E! News reported that Richie and Hamlin had attended the same Pilates class in Los Angeles and things turned awkward, resulting in Richie ducking out early. "She just wanted to avoid the situation altogether, so that's why she left," a source told the outlet.
In another E! News piece from November 2020, someone close to Richie shared that though there aren't any "hard feelings" between them, it's "definitely weird" for the model to see her ex move on with someone else so fast. "It's awkward and it's been brought up around Sofia's friends, but she and Amelia don't have a friendship so she is brushing it off," the insider added. Well, that settles that.
Source: Read Full Article