If you love pop culture commentary — and "RuPaul's Drag Race" — then you definitely know who Ross Mathews is.
Ross might be all over TV dishing on the latest entertainment news, but he's now making headlines for a different reason. Mathews got engaged to Dr. Wellinthon Garcia after dating for one year (via ET Online) in February and he couldn't be happier to discuss their love story. "We have been so happy for over a year now, as we've been getting to know each other and falling in love. It was scary letting the world know. But now, everyone's just been so amazingly kind and happy for us," Mathews told the outlet.
The pair met in Puerto Vallarta, Mexico during the New Years 2020 holiday before the coronavirus pandemic, and they turned to Zoom dates when the world was on lockdown. "It was a very pandemic love story …We would just catch up. And it seems it would be impersonal, but it really forced us to have deep conversations and really get to know each other," Mathews said. Dr. Garcia felt the same way, saying, "Absolutely, we really got to know each other. We had a series of questions that we would write down just so we could get to know each other … It was beautiful." Aw!
Mathews seems head over heels, but have you wondered who Dr. Garcia really is? Keep reading for more details.
Dr. Wellinthon Garcia is an educator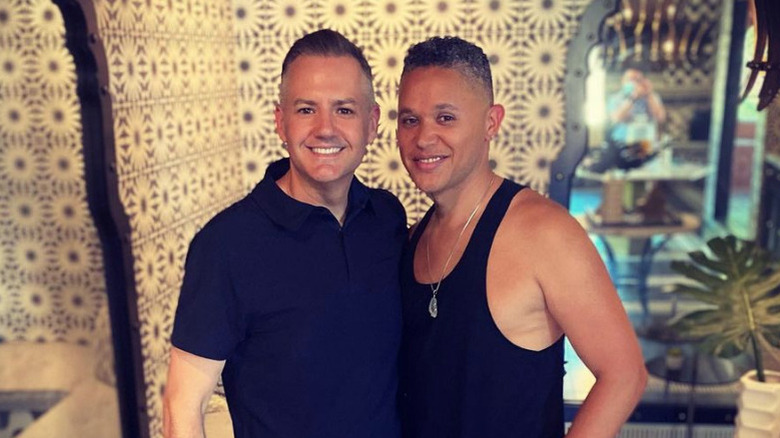 Dr. Wellinthon Garcia seems to keep a low profile, but Ross Mathews told Drew Barrymore on a February episode of her show that his fiance is a Hofstra University graduate and curriculum director at the Elmont School District in Long Island.
Dr. Garcia is quite accomplished and received his Doctorate of Education in Educational and Policy Leadership in 2017, per Hofstra's website. Since then, he's been committed to providing the students in his district with meaningful experiences, like a partnership with Junior Achievement of New York to explore career paths. When he's not overseeing curriculum, it appears he makes frequent visits to the west coast to spend time with Mathews and bask in the Palm Springs sunshine.
Dr. Garcia might not be as vocal as Mathews, but he's just as smitten. "What I love about Ross is that he genuinely adores me to my fullest, my quirkiness, just my mannerisms, he enjoys everything about me," he told ET Online in March. "That for me is just the unconditional love that I wanna give back to him every day. He's just as hilarious as he is on TV, he's just as sweet to everyone and anyone, there, I have yet to meet someone who says they don't like him. And if they do, I would have a problem with it, but he's my heart and my soul, honestly. So I'm very blessed." 
Source: Read Full Article